Global Engagement releases new Global Engagement Review 19-20
By: Louise Duthie
Last updated: Thursday, 25 February 2021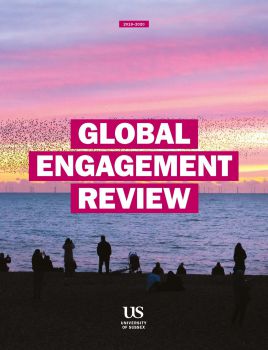 The Global Engagement team is extremely pleased and proud to share the University of Sussex's Global Engagement Review 2019–2020.
The publication provides highlights of Sussex's international activities across this period, highlighting our engagements through a collection of stories showcasing our global education, research and activities that transcend physical boundaries.
Leina Shi, Head of Global Engagement, states: "If the past year's pandemic has taught us anything about how great and resilient institutions globally operate, it's that genuine engagement at home and abroad are both the thinking heads and beating hearts of an organisation.

"We have embraced the University's set of institutional values: kindness, integrity, inclusion, collaboration, and courage. It is incumbent on us to give some deep thoughts about what it means to live by our values, challenge conventions and fundamentally reshape how we engage globally.

"Collaboration and partnership are essential to the character of the University of Sussex. More than ever, we look forward to continuing working with our partners, to thrive in these continuing uncertain times."
You will find features that resonate, particularly as the world recovers from the Covid-19 pandemic, and stories that provide a shared hope for a resilient future.