PRME Launches 5th Annual Responsible Business and Management Writing Competition
By: Joanna OConnor
Last updated: Monday, 1 February 2021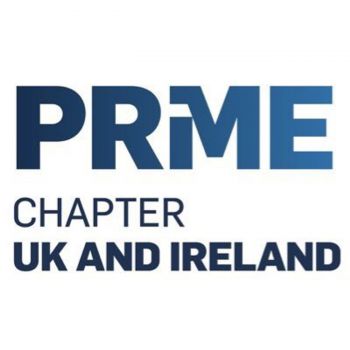 The PRME Chapter UK and Ireland writing competition 2021, a United Nations supported initiative to raise the profile of sustainability around the world, is now open for entries. Prizes of £500, £300 and £100 are available in each of the three categories, which are as follows:
Undergraduate students – text-based essays and reports
Postgraduate, master's level students – text-based essays and reports
Alternative media category (blogs, websites, storyboards, presentations, visual essays, videos, podcasts etc.) – this category is open to students at all levels
Business School students can enter within a broad range of topics related to responsible business, management and leadership themes and consistent with PRME's support for the UN Sustainable Development Goals. Possible topics include: business ethics, CSR, environmental economics, social business models, social and environmental accounting, green supply chains, responsible marketing, sustainable HRM and responsible management education. This year also sees the inclusion of a new option: to address a "Build Back Better" call to action, in response to the disruption and suffering caused by the Covid-19 pandemic.
The deadline for entry is 28 February 2021. See full submission details here.
Business School MSc Sustainable Development students Esme Piechoczek and Andrea Patanè previously won second and third place prizes in the postgraduate essay category, commended for their original topics and thoughtful research.
The Business School and PRME Principles
Our School is a member of the United Nations Global Compact. This means we are part of a network of companies across the world who work towards the Global Compact's vision of creating 'a sustainable and inclusive global economy that delivers lasting benefits to people, communities and markets'.
As members, we have signed up to the Principles for Responsible Management Education (PRME) initiative. We are committed to upholding PRME's principles, which means we incorporate global social responsibility and sustainability values into our teaching and research.