Cancer research group celebrates two decades on Sussex campus
Posted on behalf of: SHORE-C
Last updated: Tuesday, 2 February 2021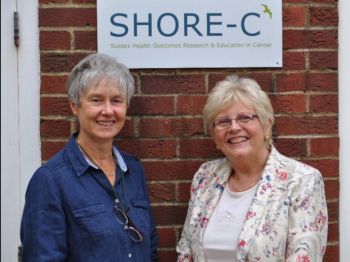 A leading research group that has helped to change the way doctors deal with the psychological effects of cancer and its treatment is celebrating two decades on the University of Sussex campus.
In February 2001, Professor Lesley Fallowfield and her team in the Cancer Research Campaign's Psychosocial Group transferred from University College London (UCL) to Sussex to continue their pioneering work with cancer patients and specialists.
The group included Professor Valerie Jenkins, who has remained part of the team since it moved to Falmer and is currently Deputy Director of Sussex Health Outcomes, Research and Education in Cancer (SHORE-C), as the unit is now known.
Lesley and Valerie already knew the campus well: both had studied Experimental Psychology as Sussex undergraduates, before completing their doctorates at the University.
It was while finishing her DPhil, in 1984, that a personal loss had inspired Lesley to specialise in the psychological impact of a cancer diagnosis and treatment on patients and their families.
Speaking at the time of the unit's move to the Sussex campus, Lesley recalled: "One of my closest friends was diagnosed with acute myeloid leukaemia and, when dying, said that I should do some work on why doctors don't tell cancer patients enough about their disease.
"She had been hugely supportive towards me when I was studying and her subsequent death had a very profound effect on me. I began doing this for her."
Since coming back to Sussex, Lesley, Valerie and the SHORE-C team have undertaken key research with clinicians to improve their communication skills – essential for helping patients cope with the challenge of a cancer diagnosis.
Their evidence-based training workshops are used throughout the world. The research group also have an international reputation for their work developing quality-of-life assessment measures that are used in major clinical trials of new cancer treatments.
SHORE-C is now part of the Brighton and Sussex Medical School (BSMS), run jointly by the universities of Sussex and Brighton.
The Dean of BSMS, Professor Malcolm Reed (himself a breast cancer surgeon and a Professor of Surgical Oncology), recognises the value of the research carried out by the group.
Speaking in 2016, when Lesley became a Dame Commander of the Order of the British Empire (DBE), Professor Reed said: "Through a series of landmark studies, Prof Fallowfield and her team demonstrated the benefits of honest and open discussion of all aspects of the diagnosis and treatment options on long-term physical and psychological outcomes.
"These findings have been of enormous international importance and have been widely applied to all areas of cancer treatment and many other aspects of healthcare."
If you'd like to leave a comment, enter your ITS username, password, and your comment. The comment may need approval before it is displayed, so don't expect your comment to appear right away.
By submitting a comment you are agreeing to the Acceptable Use Policy.