Major UKRI funding for Sussex quantum
By: Justine Charles
Last updated: Thursday, 14 January 2021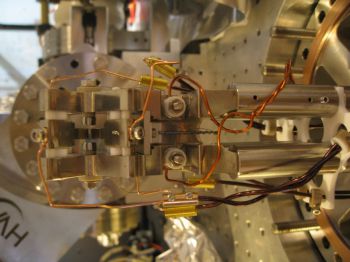 Sussex is to receive £1.5 million in funding wins for two successful UK Research and Innovation (UKRI) Quantum Technologies for Quantum Physics projects, covering both fundamental particle physics and quantum physics.
UKRI is supporting a total of seven projects with a £31 million investment to demonstrate how quantum technologies could solve some of the greatest mysteries in fundamental physics.
The projects are supported through the Quantum Technologies for Fundamental Physics programme, delivered by the Science and Technology Facilities Council (STFC) and the Engineering and Physical Sciences Research Council (EPSRC) as part of UKRI's Strategic Priorities Fund. The programme is part of the National Quantum Technologies Programme, established in 2014 to make the UK a global leader in the development and commercialisation of quantum technologies.
Despite the formidable final confirmation of the Standard Model of particle physics through the discovery of the Higgs boson, it cannot be the final theory of particle physics as it does not account for dark matter which is known to be the dominant form of matter in the universe.
Similarly, on the very large scale, General Relativity describes the evolution of the universe and its constituents well. However, it is not compatible with quantum mechanics in an obvious manner. There are many questions arising at the interface between the microscopic and macroscopic description of the underlying physics, e.g. How did inflation work, what is dark matter, is there a cosmological constant, where do fundamental constants of nature come from and are they really constants? Atomic Physics tabletop experiments have started to make a significant contribution to some of these fundamental questions.
The QSNet consortium aim to provide some answers to these questions by comparing different atomic and molecular clocks that have different sensitivities to fundamental physics processes. The consortium includes The University of Birmingham, The National Physical Laboratory, Imperial College and two research teams at Sussex. The team around Prof Matthias Keller provides a high precision molecular ion clock, which has the potential to achieve better accuracies compared to the best atomic clock to-date. The team of Prof Xavier Calmet provides crucial theory support to develop tests of fundamental physics with clocks, calculate observables and interpret measurements of the consortium.
Sussex particle physics theorists Prof Mark Hindmarsh and Prof Stefan Huber and partners of the QUEST-DMC consortium, led by Royal Holloway University of London, aim to address two fundamental questions in cosmology – what is the nature of dark matter and how did the early universe evolve?
By bringing together the frontiers of cosmology, ultralow temperatures and quantum technology, the ultra-sensitive quantum sensors they will develop will be used to search for dark matter candidates in a new mass range and to investigate phase transitions that simulate the early universe events that are predicted to produce gravitational wave signals.
Prof Hindmarsh said: "The Quantum Technology for Fundamental Physics programme QUEST-DMC gives us a fantastic opportunity to use the deep connections between helium 3 at very low temperature and particle physics at very high energies to explore the first moments of the Big Bang. Sussex was the place where Tony Leggett did his Nobel-prize winning work on helium 3, and it's really exciting to be following in his footsteps with new colleagues from Lancaster, Oxford and Royal Holloway University of London."