Broadcast: News items
Taking action following your feedback in October's survey
Posted on behalf of: University of Sussex
Last updated: Thursday, 19 November 2020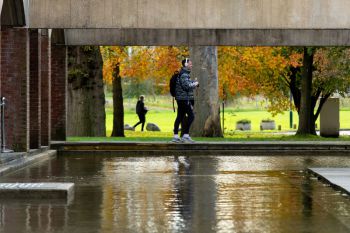 Thank you to those Undergraduate and Taught Postgraduate students who took part in the short survey that was open from 12-21 October. This listening exercise focused on your educational experience in the first part of this term.
Following your feedback, we want to acknowledge what is going well, where improvements can be made and where we are taking action, as an institution and in your School.
Across the University, we heard that students really value face-to-face teaching and there was also understanding of the vast amount of work put in by staff to create meaningful online learning experiences. Delivering blended teaching, learning and assessment in a global pandemic is complex and evolving – which is why we are gathering your feedback as the situation continues.
A majority of students were very positive about their course and tutors: they found tutors good at explaining things within the new ways of teaching, available when you need academic support, and that their course continues to be well-organised. The many positive comments for tutors, recognising the challenging circumstances, were very much appreciated.

There were mixed findings on experiences of technology in online teaching, with use of Zoom receiving both positive and negative comments.
Recording of lectures and use of Canvas have largely been received very positively.
A significant majority said they value face-to-face teaching in addition to online, but the experiences of students being taught face-to-face and online at the same time have been mixed (some very positive, some finding it not working well). This is invaluable feedback that is helping us to plan ahead for Semester 2.
A majority also said they were finding it a challenge to connect with other students this semester.
How we are moving forward in response to student feedback
The University is running additional training for staff on using Zoom and other online teaching tools, as well as sharing existing good practice between staff as we all learn to adapt to the new teaching and learning environment. We are also working to share practices for organising Canvas and links to Zoom, to make this as accessible as we can.
In addition, we will be providing further guidance and support for you around online assessments soon.
We are continuously working to improve the sound quality of online teaching, which was raised as an issue; some of you will have experienced the benefits of this already as we roll out improvements for Zoom recording in teaching spaces.
Finally, and crucially, it was very clear that connection is incredibly important to you, and to maintaining our sense of community. Schools and societies are working hard to help bring people together over this semester and beyond. We have also started a new Student Focus Connectors project, with student teams working with Schools to co-create activities that help people connect, whether through their course or outside it – if you have ideas, these are gratefully received (FocusConnectors@sussex.ac.uk).
You will also hear from your Head of School about feedback and next steps within your School.
If you'd like to leave a comment, enter your ITS username, password, and your comment. The comment may need approval before it is displayed, so don't expect your comment to appear right away.
By submitting a comment you are agreeing to the Acceptable Use Policy.