Broadcast: News items
Kelly Coate's student message: confirms new academic year and plans for welcoming students back to Sussex
By: Harvey Atkinson
Last updated: Friday, 29 May 2020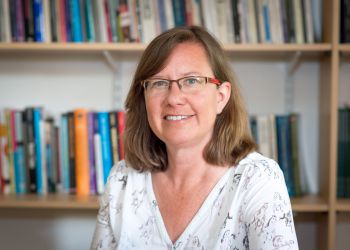 Today (29 May), PVC Education and Students, Kelly Coate wrote to all continuing students to confirm that the new academic year would be begin on the published dates (term starts on the 21 September) and to briefly outline the current plans for welcoming all students back.
Note for academic colleagues: we will be in touch with details of a survey for you to complete to enable you to share your experiences of online teaching and learning. Please look out for this email.
You can view Kelly's message to students below:
Dear students
I think we can all agree that the world has been turned upside down in the last few months, and we have all had to adjust to living and studying in new ways.
But, I'm looking forward to the next academic year and all the opportunities it will bring. Of course, our first priority is to make sure that our campus is a safe place to study and live for you.
There will be a mix of campus-based learning experiences and remote approaches. We are planning some on-campus classroom and laboratory-based teaching, including small group work, seminars and tutorials, and we will ensure that there is plenty of space to adhere to social distancing rules. We are also exploring what we'll do with lectures, if social distancing measures are still in place in September, and we'll let you know more about that in the coming weeks as well as providing you with more details on the mix of campus-based, and remote learning. One thing is certain, our dedicated academic and professional services staff will be here to support you with your studies and to help you to have the best possible student experience.
As you can imagine we are closely following all the guidance from the Government and whilst we don't yet know exactly what the guidelines will be for the start of the new year, we are already making preparations to get our beautiful campus ready for your return.
This is all possible thanks to the work of our amazing Estates and Student Support teams who will continue to work hard to ensure that when you arrive back at Sussex it will be a safe and enjoyable place to be. You'll notice quite a few changes, including improved navigation and walkways so we can all enjoy being on campus in a safe way.
The new term starts on Monday 21 September with teaching beginning the week after on the 28 September. We can't wait to welcome you back to Sussex.
With the end of term almost upon us we will continue to keep you up to date as things develop via email over the summer and through updates to the Student Hub.
Share your experience of online teaching and learning
We want to know more about your experience of online teaching and learning to help us deliver the best possible education next academic year. So please take the time to provide your anonymous feedback by completing this survey which is open until midnight 5 June.
Students who left belongings on campus
With the recent easing of travel restrictions in the UK it is now possible for students who left campus accommodation before the lockdown to return to Sussex and collect any belongings they left behind. Housing Services have already emailed students that left items in campus accommodation with instructions of how they can book a time slot to collect their items. If you have any questions about this please contact housing@sussex.ac.uk.
Tea and Talk session
The lockdown and social distancing regulations have had a big impact on how we interact and feel – yet we are fortunate that we live in a world where we can connect with others virtually. This gives us the opportunity to talk with others which can help to strengthen our mental health and wellbeing. If you would like the opportunity to talk privately about what is on your mind, why not join the next 'Tea and Talk' session to chat with a trained volunteer? These sessions are organised by Student Support and you can find more details on the Student Hub's 'Things to do' page.
With best wishes
Kelly
Kelly Coate
Pro-Vice Chancellor for Education and Students