Scientists to showcase dementia research at free public event
By: Jessica Gowers
Last updated: Friday, 21 February 2020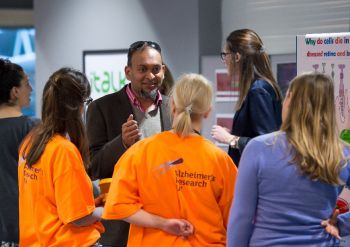 Researchers are hosting a free event in order to share their dementia research with members of the public on 10 March 2020.
Attendees will be able to get hands-on with demonstrations and will have plenty of opportunities to put their questions to the experts followed by a series of short talks from leading dementia researchers.
The event is an annual occurrence and is organised and hosted each year by different members of the Alzheimer's Research UK South Coast Network, who provide funding.
This years' lead organiser of the event, Professor Louise Serpell, said: "Discussing our research into dementia with the public is a really important part of our work. Last year we were delighted that over 100 members came along and are hoping to have just as many people sign up this year!"
The public event is hosted at the AMEX Stadium from 2.30pm to 5pm and will see talks and demonstrations from dementia researchers from Universities of Sussex, Southampton, Portsmouth and Brighton.
Following the hands-on activities and a series of short presentations, Dr Katy Stubbs (Alzheimer's Research UK) will introduce more in-depth research talks; Dr Chrysia Pegasiou, a Research Fellow in Neuroscience at the University of Sussex, will present the effect of tau on the brain and Dr Gosia Racznek (Brighton Sussex Medical School) will explore the research active memory clinic.
Judy Parkinson of Drawing Life will also give a talk 'Bringing art to people living with dementia'.
The morning of 10 March will also act as an opportunity for Early Career Researchers in the field to network and engage with talks from researchers from University College London, Southampton General Hospital, the ARUK Oxford Drug Discovery Institute and more.
This aspect of the event is organised by Dr Mahmoud Maina, a Research Fellow in the Serpell Lab, and Dr Chatterjee Shreyasi, a Research Fellow in the Mudher Lab. Dr Maina said: "In hosting this important event, we saw an opportunity for early career researchers from across the ARUK South Coast network to get together and share our findings with one another to facilitate collaborations. Such networking opportunities are really valuable to Early Career Researchers."
Alzheimer's Research UK is the UK's leading dementia research charity, dedicated to making life-changing breakthroughs in diagnosis, prevention, treatment and cure. They fund more than £31m of pioneering dementia research across the UK, including £1.8m across the south coast, supporting scientists in the region, including at the University of Sussex, to uncover more about the causes of dementia.
For more information and to sign up to the public event, visit EventBrite.