Winter Graduation 2020: Lucinda's story
By: Stephanie Allen
Last updated: Monday, 20 January 2020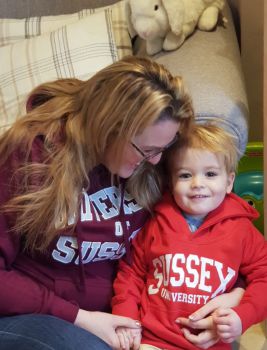 Lucinda Strong, Social Work MA
My journey to graduating at Sussex university is a long one. In 2006 I secured a place with Sussex to undertake a law degree. Unfortunately, I did not get my predicted A-Levels and left my dream of attending Sussex to go to another university.
In 2016 following a career in law and criminal justice, I had a change of heart in what I felt was important to me in my life and career. Following an open day, I enrolled in a master's programme at Sussex. At this stage I had a one-year old baby, a mortgage, a husband, a lifelong illness and was facing the start of a two-year full-time masters - this time for social work.
My journey was not easy. I completed essays, a dissertation, placements and even at the end of all of this, I did not pass my final paper. I felt at this point that I was never going to graduate, yet following a successful resit I am now in employment as a social worker, looking forward to winter graduation. I did it!
In my view failure doesn't exist, it just isn't the right time but small steps will always inevitably make bigger ones.