Sussex at the Brighton Digital Festival
By: Suzanne Fisher-Murray
Last updated: Thursday, 26 September 2019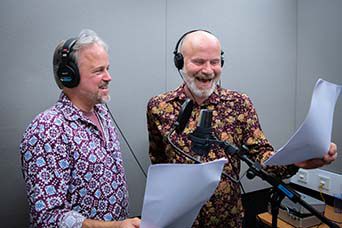 Six upcoming Brighton Digital Festival events will showcase University of Sussex projects and researchers. Sign up to explore a sound installation and virtual worlds, find out more about podcasting, quantum mechanics and our cutting-edge methods to use electronic health data. The Festival, which will run for over two weeks in October, celebrates Brighton's creative and digital industries and explores how digital technology shapes the way we live and think.
Is This Real Life or Is This Just a Fantasy?
How can we make virtual worlds feel more real, and what is real anyway? Explore the Sackler Centre for Consciousness Science's immersive virtual world on Sunday 13 October (4pm - 5pm).
Find out more and sign up for the virtual world event.
The World Turned Upside Down? Quantum Mechanics and Quantum Computers
Quantum mechanics are enabling scientists to build the most powerful computers in the world - including one here at the University of Sussex. The University of Sussex Centre for Quantum Technologies exhibit on 14 October will include atomic clocks, quantum sensors, quantum imaging devices, and a sub-atomic particle tracking device. Hear about how these new quantum technologies work, what their applications are, and how they might impact society going forward at a talk in the evening.
Sign up for Quantum technologies talk.
Podcasting: For your ears only
What is podcasting and how does it differ from radio? Is it really part of a new audio revolution? Dr Martin Spinelli, Senior Lecturer in Media and Cultural studies, will join a panel discussing podcasting on 15 October. Industry professionals will also offer tips and insights into the art of successful podcasting.
Find out more about the podcasting event.
Places, Stories and technology
Join an evening of talks and discussion on how the memories, myths and histories of a place can be brought alive on 17 October. Dr Kate Howland, Senior Lecturer in Interaction Design, University of Sussex will be speaking about the Hove Plinth project, a public art project to profile modern day sculpture.
Sign up to attend the Places, stories and technology event here.
What really counts? A wormhole
A worm-hole connects two points in spacetime, in principle allowing travel in time, as well as in space. Visit the sound installation led by Rachel Thomson, Professor of Childhood and Youth Studies, on 21 October. The project, which aims to stage an encounter between the past and the present, by using archived data, is hosted by the Sussex Humanities Lab on the University of Sussex campus.
Find out more about the sound installation event.
Data, Health and the Arts
Digital data tools and technologies present cutting-edge opportunities and challenges for health and wellbeing. Dr Liz Ford, Senior Lecturer in Primary Care Research with Brighton and Sussex Medical School, will discuss her research on new methods for using electronic health data to identify patients with dementia on 23 October.
Find out more and sign up to attend the Data, Health and the Arts event.