Surprise honorary degree for Chancellor Sanjeev Bhaskar from the University of Sussex
By: Sean Armstrong
Last updated: Tuesday, 30 July 2019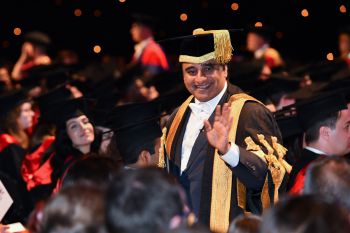 The actor and comedian Sanjeev Bhaskar OBE was awarded a surprise honorary degree this morning by the University of Sussex, to mark his 10th year as the University's Chancellor.
After a decade of congratulating, hugging, and dancing with new University of Sussex graduates as he awards their degrees - some 40,000 and counting - this morning it was Sanjeev's turn.
The announcement was made just after he had finished congratulating some of the last of the 3,500 graduating students who have been crossing the stage this week at the University's biggest-ever graduation ceremonies.
Upon receiving the award, Sanjeev said: "I wasn't expecting that at all. I thought I might be given a bottle of something for ten years - I didn't think I'd be getting a doctorate."
Sanjeev's family, including his wife and fellow actor Meera Syal, were in on the secret and were in the audience to witness the moment, which came at the end of this morning's 11th and penultimate ceremony of the week.
In his ten years as Chancellor, Sanjeev has formally conferred degrees on around 50,000 students, and has described how he now receives "more hugs than handshakes" on stage.
Earlier in the week, he said: "One of the wonderful things about Sussex ceremonies are that they're unpredictable and kind of raucous, and energetic and energising and who wouldn't want to be a part of that?
"This experience of being Chancellor, and particularly at Sussex, is the gift that keeps giving because it's one of the greatest privileges of my life."
In making the surprise award, Adam Tickell said: "As our Chancellor, Sanjeev Bhaskar brings unbounded energy and endless enthusiasm to every graduation he presides over. Amid all the ceremonial formalities, Sanjeev has that very rare gift of being absolutely focused on each and every one of you as you cross the stage. His warmth and genuine pleasure in your accomplishments is clear to see and is a joy to witness.
"I have been thinking a lot about how someone can meet so many people, spanning different cultures, nationalities, backgrounds and lifestyles, and greet them all with curiosity, interest and friendship. The answer lies in our common humanity and, in Sanjeev, we have a Chancellor who embodies this and is fluent in human."
Professor Tickell also paid tribute to the impact of Sanjeev's career from writing and appearing in series such as Goodness Gracious Me to starring in the new Richard Curtis film Yesterday.