Pride in STEM: Sussex scientists celebrate Brighton Pride
By: Jessica Gowers
Last updated: Wednesday, 15 August 2018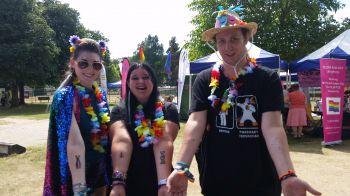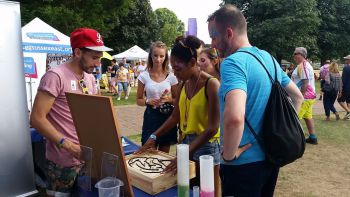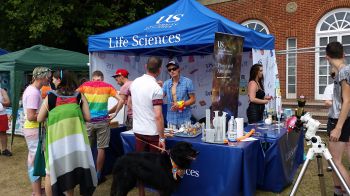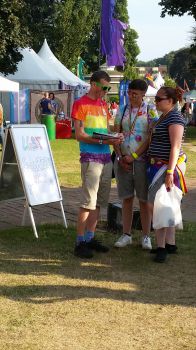 University scientists brought family-friendly activities to the UK's biggest LGBT+ event on Saturday 4 August.
Staff and students from the School of Life Sciences and a range of SEPnet universities – including Sussex's School of Mathematical and Physical Sciences and the University of Southampton – ran a number of science-themed activities at Brighton Pride.
Pride is one of the major events in the city's calendar and is a celebration of LGBT+ communities.
It provided an opportunity to engage with visitors of all backgrounds and ages and over 175 visited the stall in the Community Village of the Preston Park site.
Dr Dominic Galliano, SEPnet Director of Outreach & Public Engagement, said: "As an LGBT+ physicist, I understand the importance of having science represented within the LGBT+ community and for us here at SEPnet, it is important to work with all sorts of diverse communities. So thank you to all of the Outreach and Public Engagement teams involved."
The School of Life Sciences' activities included an Alzheimer's brain game, a DNA replication model, various eye-catching dry ice experiments and temporary science tattoos designed by Research Fellow Dr Jess Booth.
School of Life Sciences Public Engagement Coordinator, Dr Katy Petherick, said: "As a School, Life Sciences is committed to increasing accessibility to science by taking it to places where you wouldn't expect experiments to be. Going to Pride was a great opportunity to showcase our community of LGBT+ scientists and their research."