Successful showcase celebrates work of LGBT+ scientists
By: Jessica Gowers
Last updated: Wednesday, 11 July 2018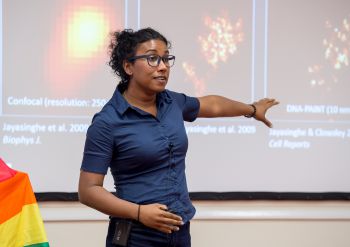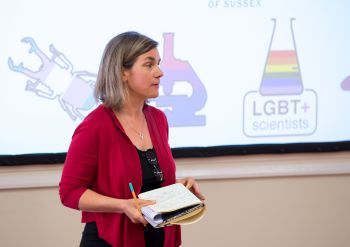 In recognition of the first ever LGBTSTEM day (5 July 2018), a special event was held on campus to celebrate the work done by LGBT+ scientists across the University.
The showcase, which will hopefully be an annual event, aimed to improve awareness and support for LGBT+ individuals in STEM (Science, Technology, Engineering and Mathematics).
It saw scientists from across the University deliver a range of fascinating talks showcasing diverse research, from astronomy to Alzheimer's disease.
The event also included a keynote lecture from Dr Izzy Jayasinghe, a lecturer in Cardiovascular Science at the University of Leeds, who spoke not only about her research but her personal journey into science too.
Izzy said: "Even just a few years ago when I was struggling to be 'out', seeing others like me being out, being open and presenting their work on a platform such as this would have meant so much to me. It would have saved me from a lot of anxiety around my career progression. I noticed that the University of Sussex's LGBT STEM day was led by a group of young LGBTQ+ scientists and engineers and I wanted to support and acknowledge their effort.
"In the years to come, we will find that LGBTQ+ visibility in STEM academia and industry will become much stronger. Events like this are important because they will herald a new period in STEM where individuals can bring a more authentic version of themselves to work and a major shift in broader workplace cultures towards better inclusion and diversity. All of these will serve to improve the quality of STEM research and innovation."
The showcase was opened by Professor Claire Annesley, Deputy Pro-Vice-Chancellor (Equalities and Diversity), followed by an introduction by lead organiser of the event, Dori Grijseels.
Dori said: "Being a PhD student can be an isolating experience, especially as an LGBT+ student in STEM. Having so many people attend this event, and seeing all my fellow LGBT+ scientists talking about their science, means a lot to me. The talk by Izzy, our keynote speaker, was especially inspiring. I hope this event will have helped in creating a more open and supportive environment within the STEM schools at the University."
LGBTSTEM Day was celebrated for the first time this year and was set up to recognise, raise awareness and increase support of LGBT+ people in STEM (Science, Technology, Engineering and Mathematics).
The showcase at the University was delivered as part of the project Out and About STEM, which was started by Dr Katy Petherick of the School of Life Sciences and is funded by a Biochemical Society Diversity in Science grant.
Katy said: "It was fantastic to see support from across the University for the first LGBTSTEM day, and in particular having so many early career researchers wanting to share their science. Through raising the visibility of LGBT+ scientists, along with other minorities in science, we are helping to break down barriers that turn people away from science, hopefully demonstrating that everyone can have a voice in scientific research."
The showcase was also supported by the School of Psychology and the Biochemical Society.
For further information and additional resources, visit the Stonewall website.