Sussex academics bring leading experts together for refugee resettlement conference
By: Lynsey Ford
Last updated: Thursday, 13 October 2016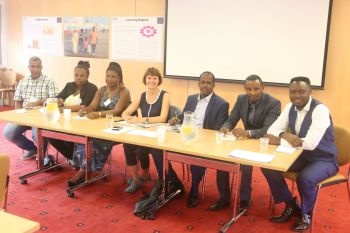 International experts working on refugee resettlement have come together for the first time at the University of Sussex.
Academics from across the global university sector, along with representatives from the British Refugee Council, Refugee Action, Scottish Refugee Council, the UN Refugee Agency, the International Organisation for Migration, national and local government as well as a good number of refugees themselves, took part in the three-day conference, which was held to coincide with the 10th anniversary of a group of Ethiopian refugees resettling in Brighton and Hove.
The event, organised by Dr Linda Morrice, Professor Rupert Brown, Dr Mike Collyer and Dr Linda Tip focused on the results from their Economic and Social Research Council funded project entitled, "Optimising refugee resettlement in the UK: A comparative analysis". The project researched the experiences of the Ethiopian, Congolese, Somali and Iraqi refugees who were resettled as part of the government's Gateway Protection Programme a decade ago.
The conference, which ran from Wednesday 14 to Friday 16 September, heard from academics from Georgetown University in the US, York University in Canada, Ghent University in Belgium and Malmö University in Sweden amongst others.
The three days ended with an event held at Brighton and Hove Sussex Sixth Form College (BHASVIC) to celebrate the 10-year anniversary of the arrival of resettled refugees from Ethiopia in Brighton and Hove - which included a speech by Geoff Raw, the Chief Executive of Brighton and Hove Council.
The conference came ahead of the UN General Assembly's Summit for Refugees and Migrants and the Leaders' Summit on the Global Refugee Crisis, hosted by President Obama this week.
Dr Collyer said: "It was great to get such a diversity of people into the conference centre and the discussions were very lively. We're expecting real commitments to expand refugee resettlement to come out of the high-level meetings in the US this week and our research has a real contribution to make there."
For more information about the "Optimising refugee resettlement in the UK: A comparative analysis" project – please visit here.