Obituary: Pro Vice-Chancellor Professor Chris Marlin
Posted on behalf of: The University of Sussex
Last updated: Tuesday, 9 September 2014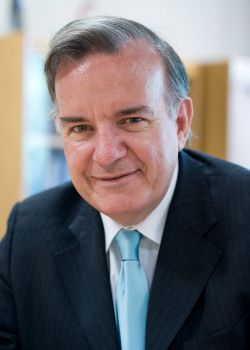 Pro Vice-Chancellor Professor Chris Marlin, who died on Tuesday (2 September) aged 61, will be remembered not just for his work in raising the University of Sussex's international profile, but also as a popular colleague whose wise counsel and unflappable nature brought calm to any situation.
An Australian national, Chris was formerly Professor of Computer Science at Flinders University in Adelaide, South Australia, where he was Deputy Vice-Chancellor (Research) from 2004-09 and Pro Vice-Chancellor (Research) from 1998-2004.
He joined the University of Sussex in 2009 in the new senior post of Pro Vice-Chancellor International responsible for developing the University's international agenda and recruitment. From the start he was keen to stress that internationalisation was about a broad approach, one that facilitated international experience on campus as well as partnership-building with overseas universities.
A key part of the role was to grow the number of international students at Sussex while maintaining a positive balance on campus. During his tenure, international student numbers grew from 1,473 in 2009-10 to 3,103 in 2013-14, an increase of 111%.
He was delighted to see the number of Sussex students engaging in study abroad increasing by 17% since 2010 while the number of International Summer School (ISS) students grew during his time at Sussex by some 32 per cent. As he made clear at successive international student welcome events in the Brighton Dome, Chris was always admiring of those students who took on the challenge of study overseas.
Chris was committed to seeing Schools and staff benefit through the creation of sustainable, long-term academic partnerships. One of his legacies is the University's International Partnership Development Fund, supporting staff exchange and research development partnerships. The fund has led to strong collaborations with a number of world leading universities including: Chinese University of Hong Kong; Renmin University, China; Tata Institute of Social Sciences, India; Mahidol University, Thailand; and Cornell, Georgetown University, and UC Santa Cruz in the USA.
A supporter of embedding the international into the student experience he was pleased to see the growth of non-European language electives into the University curriculum and to see the success of the University's first One World Week in 2014, celebrating the range of cultures on campus.
To provide additional support for international students studying at Sussex, he oversaw a re-working of the University's scholarship provision for international students and supported the creation of the Chancellor's International Research Scholarships, ten full-fee awards; the Chancellor's International Scholarships, creating 25 half-fee awards for Masters students; as well as Sussex Country Scholarships.
Director of Student Recruitment Marcus Williams said: "Chris led on a sea change in internationalisation at Sussex. He recognised that it needed to be embedded in every aspect of a university's work and the work streams he began will continue as the University's Strategic Plan, Making the Future, is implemented.
"He was also a much-loved colleague. His love of life, sense of perspective, wisdom and unflappable nature were all stand-out character traits."
Vice-Chancellor Professor Michael Farthing described Chris as "not just a distinguished colleague, but a good friend who worked hard to fulfil Sussex's mission as a University of international renown and a centre of teaching and research excellence".
He said: "Even though many of us knew Chris was seriously ill, his death is still a terrible shock. Our thoughts are very much with his wife Deborah and his family."
Chris's Personal Assistant June Flanagan said: "I will miss him dreadfully. Our chats in the morning after I brought in his coffee were wide ranging, as we shared an interest in the history of buildings and places, and a love of the countryside. He used to tell me of his walking expeditions, always finding something unusual about a town or village, even if, on first glance, it seemed to be unremarkable.
"I felt I could approach Chris with any problem or concern that I may have had, and he would listen, and come up with a solution, but in such a way that it almost seemed like you had thought of it. I think he applied this technique in his management style too – guiding, but never heavy-handed.
"Chris was the nicest, friendliest, most unassuming, person I have worked for. I'm sure that everyone who has known Chris while he has been at Sussex will agree that his special qualities will be missed, on both a professional and a personal level."
A Book of Condolence is currently in the reception of Sussex House for those who would like to write a personal tribute to Chris