Why fear brought down England at the World Cup, says Sussex psychologist
By: Jacqui Bealing
Last updated: Monday, 23 June 2014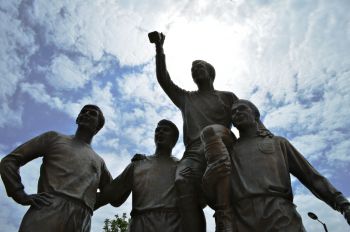 England are out of the World Cup at the group stage for the first time since 1958, but there is nothing new about this failing to live up to their billing. Here, Sussex PhD researcher in elite team performance Will Thomas gives a psychological explanation as to why England so often underachieve and what could be done to fix it.
The Fear of Failure
The explanation that the team with the best players wins is simply not true. In comparison to some teams in the World Cup, England actually have a pretty decent crop of players. Take a look at fellow group D contenders, Costa Rica, who have already beaten Uruguay and Italy. Their best-known player and captain, Bryn Ruiz, couldn't make it into a relegated Fulham team last season and ended up going out on loan to PSV Eindhoven.
So what is going on? One explanation is that England players are terrified of failure. They feel isolated and anxious about what could go wrong, rather than a sense of cohesion and team spirit. This was typified when Roy Hodgson asked Stephen Gerrard to give the team talk after the defeat to Italy. When asked what the speech was on, Gerrard proudly recalled:
"Basically, to realise it could be a terrible, long, frustrating summer if we don't get it right on Thursday (against Uruguay). There is no hiding place for a player when you go out of a tournament earlier than you expect."
And, just to make sure that this fear was instilled in the younger members of the squad not yet scarred from previous World Cup woes, Gerrard continued:
"It can be tough and it can take an awful long time to get over it. A lot of people know that in the dressing room but there are a few young lads in there too, so it was important for them to realise what is at stake and how important this game is."
Is it any surprise that England players look so stifled and fearful when they play? They are so terrified of the reaction from the media and fans that they are unable to enjoy their football, and play with the freedom so often seen by them in the Premier League. In stark contrast, these are the words from Costa Rica coach, Jorge Luis Pinto, before the World Cup:
"We will play without fear. We face three world champions and we can take them all on. What we feel is joy and motivation."
Building resilience through a team identity
To overcome this fear and build resilience the team needs to foster a strong sense of identity, where team members view themselves as part of the team, rather than a group of individuals. Recent psychological research has demonstrated that a strong identification with a team or group increases both resilience and performance.
My own research, in collaboration with Dr Viv Vignoles and Professor Rupert Brown and co-funded by the Centre for Team Excellence, focuses on how to increase this identification. We are examining six key ingredients – identity motives – that may encourage individuals to identify with a team.
Continuity
Only eight teams have won the World Cup and of those Brazil is the most successful, appearing in seven finals, winning five and losing two. In Brazil the legacy handed down from legendary players such as Pele, or Roberto Carlos, inspires the current players. For England the legacy of 1966 has become a burden that weighs them down. If we are to repeat those heroics we need to start by embracing the past in a different way so that it can strengthen our future.
Distinctiveness
Brazil play beautiful football. Italy have a ruthless defence. Germany have a high tempo and organisation. What makes England distinctive? What is our style? Twenty-five years ago England teams were courageous and dignified. Perhaps developing a lion-hearted identity would give the team a point of difference to be proud about.
Meaning
What does it really mean to play for England? England players need to go back to their roots when they were children and dreaming of pulling on the three lions shirt. We need to define a purpose that goes beyond a vague aspiration to win, which connects it with the fans, and makes it meaningful again.
Belonging
Team members need to know how to behave with each other to create a sense of trust and belonging that makes it safe to have open and sometimes difficult conversations. In 1990, the England team had a culture of trust that enabled Bryan Robson, Gary Lineker and Peter Shilton to challenge the manager, Bobby Robson, to switch from 4-4-2 to 3-5-2 after the opening draw against the Republic of Ireland. England reached the semi-finals, the best performance since 1966.
Efficacy
This relates to team members' belief that they can make an important contribution to the success of the team. Instead of being scared of failure, players should be focusing on how and why they can make a significant contribution to the team's success. Sir Clive Woodward's 2003 Rugby World Cup winning team knew that anything, no matter how small, would be done to help them to glory. Every experiment, from peripheral vision training to ice baths to aid recovery, strengthened their identity and made them feel capable of achieving success.
Self-esteem
The final factor is to make players feel good about being part of the team. England players need to focus on the pride and enjoyment of playing for England. Instead of fixating on fear, the captain and manager need to lead by example by giving the players the freedom to enjoy and express their football.
Our research is just beginning to understand which of these six motives are the most influential in building a strong team identity. It suggests that if England start to believe that together they can write a new exciting chapter in the story of English football, their resilience, wellbeing and performances will improve. And, just maybe, we might start overachieving.
Will Thomas
PhD researcher on elite performance