The Queen opens new home for University's archive
Posted on behalf of: University of Sussex
Last updated: Friday, 1 November 2013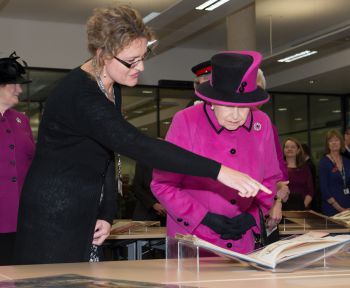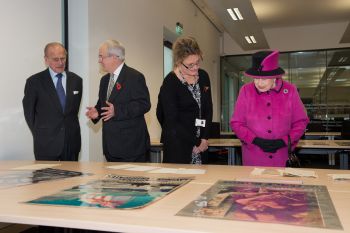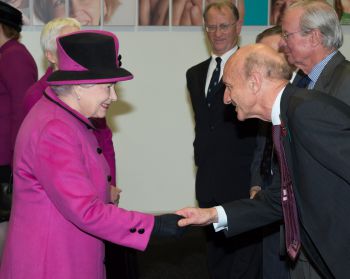 Her Majesty The Queen, accompanied by His Royal Highness The Duke of Edinburgh, officially opened the new £19m home for the University's Special Collections archive yesterday (Thursday 31 October).
The royal party visited The Keep, a new historical resource centre for the University of Sussex, East Sussex and Brighton & Hove, which will open to the public next month.
Fiona Courage, Special Collections Manager, showed the Queen the Special Collections archive, including examples from Mass Observation, rare book collections and some illustrations from the Rudyard Kipling collection such as the writer's own sketches for the Just So Stories.
The Queen and the Duke of Edinburgh spoke with Fiona and other Sussex staff about the logistics of moving collections and asked where they had come from.
They also met children from two local schools who have been involved with an outreach programme run by the University and East Sussex Record Office (ESRO).
Fiona said: "The visit went really well. It was a true endorsement of the value of this facility and a wonderful opportunity to show visitors the building and its collections."
Other Sussex staff who met the Queen at the new facility included Dr Geoffrey Mead, a member of The Keep's user group; art historian Professor Maurice Howard; and the Vice-Chancellor, Professor Michael Farthing.
Professor Farthing said: "The University of Sussex is proud to be a partner in creating this remarkable new resource for the region. It is a fitting home for our internationally acclaimed Special Collections. This will open up even wider access to this unique material and enhance the leading research and scholarship we sustain at Sussex for the future."
The Keep will eventually house over six miles of archives and resources dating back 900 years. It brings together under one roof the archives and collections of the University of Sussex, East Sussex Record Office and Royal Pavilion, Museums & Libraries, Brighton & Hove.
Located across the road from the University's campus at Falmer, The Keep has been built over the past year and is designed to offer state-of-the-art storage for archives.
For more information about The Keep, go to the East Sussex County Council website.
Until now, the Special Collections had been housed in the University's Library, which was opened by the Queen nearly 50 years ago, in 1964.
If you'd like to leave a comment, enter your ITS username, password, and your comment. The comment may need approval before it is displayed, so don't expect your comment to appear right away.
By submitting a comment you are agreeing to the Acceptable Use Policy.