University of Sussex appoints Lead Chaplain
Posted on behalf of: Chaplaincy
Last updated: Monday, 28 October 2013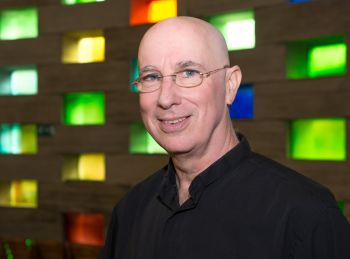 The University of Sussex has appointed Revd Chris McDermott as Lead Chaplain, following the retirement of Revd Canon Dr Gavin Ashenden earlier this year.
The University advertised in August for "an inspirational leader to provide a focus for the spiritual life of the University community".
A priest, mediator and trainer with a professional background in conflict-resolution and communication skills, Revd McDermott will come to Sussex in January from east London. Although he has lived in Zimbabwe, South Africa and the USA, he has spent most of his working life in a multi-faith environment in Newham and Redbridge.
From 2000-12 he was Education Team Leader at Conflict and Change, a community-development charity in the London borough of Newham.
He is currently a consultant providing organisations with support, training or mediation around issues of communication, conflict resolution, cross-cultural dynamics and diversity.
An ordained Church of England Priest since 1996, Revd McDermott is also an assistant priest in Great Ilford, the parish where he served as curate from 1995-99.
He says: "My own spirituality has been profoundly shaped by a pluralist ethos. I have embraced a wide swathe of Christian traditions, practise zazen meditation and am nourished by wider streams of Zen and Buddhist traditions. Astanga yoga is also an important part of my spiritual practice."
The Chaplaincy provides pastoral and spiritual support for students and staff of all faiths and none, and one of the key responsibilities of the post is to model interfaith partnership as well as to provide opportunities for worship, reflection and prayer.
Based in the Meeting House, the Chaplaincy offers services spanning a range of faiths and Christian denominations. There is also a Muslim prayer facility on campus.
Claire Powrie, Director of Student Services, says: "We were looking for a pluralist with the skills and experience to foster mutual understanding and respect among faith groups and individuals.
"It's important to us that Chris can provide a credible faith perspective about human life and values without imposing particular beliefs on others.
"Chris has a good knowledge and understanding of world faiths derived not only from his academic work but also from over 25 years of experience working and living in one of the most diverse and multicultural areas of the UK."
Revd McDermott will lead and manage the existing multi-faith, part-time team of chaplains, working with them to develop a model of shared ministry.
Claire Powrie says: "Chris will work with the Chaplaincy team we already have in place to model inter-faith partnership within the University based on the ethos of social justice."
Another key part of the role is to provide pastoral support in the event of a major incident and to students and staff who are bereaved, in hospital or recovering from illness.
Revd McDermott says: "I am very much looking forward to formally taking up this post early in the new year."
If you'd like to leave a comment, enter your ITS username, password, and your comment. The comment may need approval before it is displayed, so don't expect your comment to appear right away.
By submitting a comment you are agreeing to the Acceptable Use Policy.