Professor Rod Kedward
By:
Last updated: Monday, 21 January 2013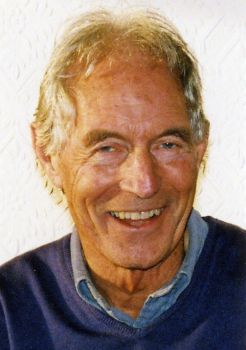 An academic at Sussex from its earliest days, Rod Kedward, who is made a Doctor of Letters on Thursday (24 January 2013 retired as Emeritus Professor of History in 2002 after 40 years of teaching and research.
But his contribution to learning at the University continues, as he is heavily involved in the establishment of an important new archive devoted to the testimonies of those involved in the French Resistance movement of the Second World War.
Professor Kedward was appointed to the School of European Studies at the new University of Sussex in 1962.
He went on to specialise in the history of Resistance in Occupied France during the Second World War and is the author of several books in this area, including: Occupied France: Collaboration and Resistance (Blackwell, 1985); Resistance in Vichy France (OUP, 1978); In Search of the Maquis (OUP, 1993); La Vie en Bleu: France and the French since 1900 (Penguin, 2005); and The Liberation of France: Image and Event, edited by Rod Kedward and Nancy Wood (Berg, 1995).
In 1995 In Search of the Maquis was awarded a French prize, the 'Prix Philippe Viannay - Défense de la France', conferred at the Senate building in Paris.
Professor Kedward is currently involved in the creation of a Centre of Resistance Studies at the University of Sussex, with an Archive of Resistance Testimony to be stored alongside the Mass Observation Archive in the new Keep.
In parallel Professor Kedward is working with Dr Juliette Pattinson of Strathclyde University to find out where resistance testimonies can be located in private possession across the world, in particular France, the UK, the US, Canada and Australia. The results will be collated into an Inventory of Resistance Testimony to be put online by the Testimony Archive.
Professor Kedward has recorded in person more than 100 interviews in French with ex-Resisters, dating from 1968 down to the end of the century, which he will leave to the projected Sussex Archive.
Recently, he has been interviewing people in London and Cornwall who were involved in resistance and intelligence, working for the Special Operations Executive (SOE) or the Free French. The emphasis in all this oral evidence is on the contribution of ordinary men and women, from all parts of society, to clandestine resistance.
In 1989 Professor Kedward was honoured by the French government as Officier de l'Ordre des Palmes Académiques for services to French culture, and in 2011 he was given the highest honour in the Order by being promoted to Commandeur dans l'Ordre des Palmes Académiques for 'a remarkable career consecrated to the history of contemporary France...and tireless contribution to the scholarly and university cooperation between France and the United Kingdom.'
In retirement, he continues to go regularly to France and is working on two research projects: 'Roots and routes of Resistance', and 'Historical Encounters with French Regions', incorporating the Cornish-Breton relationship in 1940-1944.