University of Sussex Professor awarded Austrian honour for book about Holocaust hero
By:
Last updated: Wednesday, 12 December 2012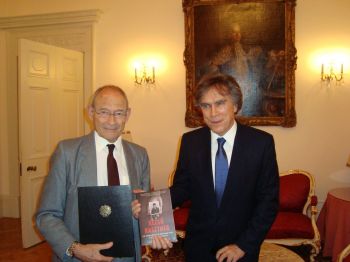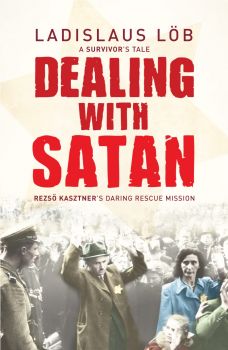 University of Sussex academic Professor Ladislaus Löb has been presented with the annual Austrian Holocaust Memorial Award.
The award was made at a special ceremony at the Austrian Embassy this week (Monday 10 December 2012) for Professor Löb's book recounting the life of the man who saved him from death at the hands of the Nazis.
Professor Löb, who lives in Brighton, UK, is the first UK recipient of the Austrian Holocaust Memorial Award, which was first awarded in 2006.
The award is sponsored by Austrian Service Abroad, an organisation that has sent hundreds of young Austrians abroad for a year of service of social, peace or Holocaust remembrance work.
Professor Löb, who is Professor emeritus of German at the University, is known for having been a passenger, when he was 11 years old, on the Kasztner train, which saw almost 1,700 Jews given safe passage out of Hungary to Switzerland during the Holocaust.
The experience is recounted in Professor Löb's book, Dealing with Satan: Rezso Kasztner's Daring Rescue Mission (2008).
The award was presented by the Austrian Ambassador to the UK, His Excellency Dr Emil Brix, who said: "Particularly in a situation where some voices wish to qualify and relegate these crimes to history, this prize is an important signal."
Professor Löb said at the ceremony: "This award honours Rezső Kasztner, who saved thousands of his fellow-Jews from the Nazis.
Professor Löb was 11 when the Nazis invaded his native Hungary in 1944 and began rounding up Jews and deporting them to the concentration camps. Seven months after his birthday he was rescued from the notorious Bergen-Belsen concentration camp and taken to Switzerland.
He eventually arrived in Britain and became an academic at the University of Sussex in 1963, where he earned a reputation as a literary scholar, translating the acclaimed Holocaust memoir Nine Suitcases by Béla Zsolt. His book on Kasztner offers the first full account of Kasztner's enterprise and the experiences of those he rescued from Bergen-Belsen.
Hungarian Jew and political activist Rezsö Kasztner formed the idea to strike life-saving bargains when he realised the enormity of the threat to European Jews under the Nazis. He played a dangerous game, relying on the greed and rivalry of leading members of the SS and persuading them to trade Jewish lives for cash or the prospect of lenient treatment after the war.
The notoriety of this scheme - seen by some as collaboration of the worst kind - led to a spectacular trial and Kasztner's murder by Jewish extremists in Israel in 1957. His reputation as a Jewish hero of the Holocaust continues to court controversy.
Professor Löb says: "Kasztner was neither a knight in shining armour nor a traitor. Arrogant and devious, but uniquely resourceful and brave, he was precisely the kind of person needed to deal with some of the most evil men in the world. For a Jew to stand up to the SS and to save as many other Jews as Kasztner did (in fact many more than Schindler, whose task was made easier by his not being a Jew) was an astonishing achievement."
Dr Helmut Grugger (University of Limerick and University of Innsbruck), who presented Professor Löb for the award, said in his laudation: "Ladislaus Löb's book offers an outstanding contribution to the commemoration of the Holocaust in Hungary. It also successfully combines autobiography with precise historical documentation of facts."
Also present at the ceremony was "Memorial Servant" Thomas Schobesberger, who represented Professor Andreas Maislinger, chairman and founder of the Holocaust Memorial Service at Austrian Service Abroad, in his absence. He said: "There are many individuals and institutions who keep the memories of the atrocities of the Holocaust alive, and spread a deeper understanding of what happened. But some really stand out. Austrian Service Abroad honours these individuals for their crucial work and educational efforts."
---
Notes for Editors
Read more about the Austrian Holocaust Memorial Award
University of Sussex Press office contacts: Maggie Clune and Jacqui Bealing. Tel: 01273 678 888. Email: press@sussex.ac.uk
View press releases online at: http://www.sussex.ac.uk/newsandevents/