Dear diarists: University calls for public to take part in day diary archive project
By:
Last updated: Friday, 4 May 2012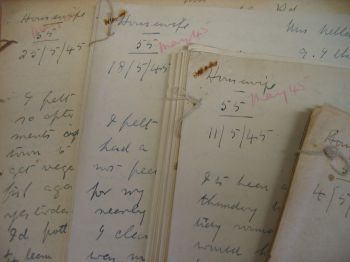 The Mass Observation Archive at the University of Sussex is inviting the public to donate their thoughts, opinions and experiences to a renowned archive of everyday life for future generations to study.
The Mass Observation Archive in the University Library specialises in materials that record everyday life. The project began in the 1930s and ran till the 1950s.
The project materials were moved to the University of Sussex, where the idea was revived by the University Library's Special Collections in the 1980s. It continues to collect diaries and observations written by ordinary people from all walks of life and other materials such as posters and leaflets, on particular subjects of public interest.
Now the Mass Observation team is calling for electronic day diaries (emails or email attachments only, to be sent to moa@sussex.ac.uk) written on Saturday 12 May.
It doesn't matter whether you're a budding Samuel Pepys or a would-be Adrian Mole – the invitation is open to all who would like to make one day in their lives a part of recorded history.
In 1937, the year the project began, Mass Observation called for people from all parts of the UK to record everything they did from when they woke up in the morning to when they went to sleep at night on 12 May - the day of King George VI's coronation.
The resulting diaries provide a glimpse into the everyday lives of all sorts of people on this day. They are stored, with many other diaries and papers, at the Mass Observation Archive.
The Archive repeated this call in 2010 by asking for electronic diaries written on 12 May (coincidently, the first day of the new coalition government) and then again in 2011. These diaries are stored in the Archive alongside the 1937 documents.
This year's call coincides with a special celebration: Mass Observation is celebrating its 75th anniversary. To mark the occasion, the Archive has been holding a series of lectures and will hold an anniversary conference in July.
The final lecture in the anniversary series will see author Joe Moran talk about Mass Observation and his work on everyday life. Joe says: "I'll be talking about how Mass Observation has influenced my own writing on the history and anthropology of everyday life for a broad, non-specialist audience. I'll also speculate about the sorts of things the Mass Observation might have been interested in today if it had carried on in its original form."
Mass Observation Supervisor Jessica Scantlebury says: "12th May 2012 is likely to be quite an ordinary day, as was 2011, but for researchers and writers who use the archive, the 'ordinary' can often provide extraordinary results. Therefore, we would be very grateful if you could document your 12th May 2012 for the future.
"If you would like to submit an electronic diary, write about what you do, the people who you meet, what you talk about, what you eat and drink, what you buy or sell, what you are working on, the places you visit, the things you read, see and hear around you and of course what you yourself think."
Notes for Editors
How to take part in the day diary project for 12 May:
Diaries MUST be in electronic form - emails or as email attachments (as word documents, preferably)
You should include a brief self portrait: your age, where you live, whether you are married or single, your present job or occupation if you are working and any other information that you think is important to record. We need this as background to your diary.
If 12th May was a typical day for you please say so. If not, please say why it wasn't. Any reflections on the day and on how you felt while keeping the diary always welcome.
All submissions by under-16s for the diary project require written consent from a parent or guardian

So that we can add your diary to the rest of the Archive for the future, please include the statement below at the end of your diary. If you don't attach this statement, we won't be able to keep your diary or make it part of the Archive.
"I donate my 12th May diary to the Mass Observation Archive. I consent to it being made publicly available as part of the Archive and assign my copyright in the diary to the Mass Observation Archive Trustees so that it can be reproduced in full or in part on websites, in publications and in broadcasts as approved by the Trustees".
Please submit your responses by email moa@sussex.ac.uk
We can't thank you personally for your diary but keep an eye on our website for news of the project. An online exhibition with some of the diaries sent in as part of the 12th May 2010 diary call can be seen here.
For further details visit - http://www.massobs.org.uk/12may
MASS OBSERVATION AT 75
The Mass Observation Archive boasts an international reputation for the material it holds and generates about everyday life in Britain. In 2012 it is 75 years since Mass Observation was founded. The newer Mass Observation Project was 30 years old in 2011. To celebrate the Archive has hosted a series of special lectures, ending in May 2012.
The final lecture in the series will be given by Joe Moran on Thursday 10 May at 6.30pm in Lecture Theatre A in the Fulton building on the University of Sussex campus.
Joe Moran is a Reader in Cultural History at Liverpool John Moores University and author of Queuing for Beginners (2007) and On Roads: A Hidden History (2009) and he is currently writing an intimate history of British television. Book a place at Mass Observation and the History of Everyday Life
University of Sussex Press office contacts: Maggie Clune and Jacqui Bealing. Tel: 01273 678 888. Email: press@sussex.ac.uk
View press releases