Alumni news
The Power of Poetry and Living Libraries for Decolonial Dialogue
By: Ciaran Clark
Last updated: Thursday, 14 September 2023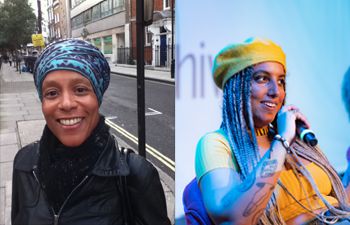 We are set to host a stimulating evening, exploring the transformative power of poetry and lived experiences in decolonizing educational and archival spaces. Titled "The Power of Poetry and Living Libraries for Decolonial Dialogue," the event will take place on Thursday 28 September, from 5pm-7pm in the Ground floor Library Café.
This engaging event, supported by RLUK (Research Libraries UK) and Black@Sussex, will feature two distinguished guests: award-winning poet Jenny Mitchell and multi-modal artist Erin James, both of whom are poised to ignite a profound discussion on themes related to race, gender, and the enduring legacies of colonialism.
Jenny Mitchell, an alumna of the University of Sussex, has earned recognition and acclaim for her contributions to the world of poetry. Notably, she was awarded the Gregory O'Donoghue Prize in 2023 for a single poem. Her second collection, "Map of a Plantation," received the Poetry Book Awards in 2021 and is now part of the syllabus at Manchester Metropolitan University. Mitchell's debut collection, "Her Lost Language," was featured in Poetry Wales' list of 44 Poetry Books for 2019. Her latest work, "Resurrection of a Black Man," has received widespread acclaim, with three prize-winning poems and a feature on the U.S. podcast "Poetry Unbound."
At this event, Mitchell will engage the audience with readings from her collections and share her profound insights into themes revolving around race, gender, and the enduring effects of colonialism. Importantly, she will delve into the pivotal role that libraries and archives can play in addressing these themes, drawing upon her own experiences within university and library spaces and collections.
Erin James, a Brighton-based multi-disciplinary artist, joins Mitchell in this stimulating dialogue. James is known for merging art and activism in their diverse range of art, including poetry, DJing, photography, and curation. They hold the 2023 Stuart Hall Fellowship at Sussex University, with their research focusing on poetry and music as alternative mediums for academic research and archiving. James' work revolves around critical topics such as mental health, activism, the use of joy as an antidote to hate, and the normalization of "stigmatized" subjects.
During the event, James will respond to Mitchell's presentation with their unique perspectives on these critical themes, leveraging their experience gained through the Stuart Hall Fellowship and their socially engaged zine, "Tough Cookie."
Together, Jenny and Erin will generate a participatory and intergenerational discussion, co-facilitated by Dr. Alice Corble, University of Sussex Library Teaching and Learning Supervisor and RLUK-AHRC Library Research Fellow. Attendees can anticipate an exploration of diverse experiences within university and library environments. The conversation will not only shed light on the challenges faced but also propose creative ways to decolonize these spaces and collections. Central to this dialogue is the belief in the transformative power of poetry and lived experiences in this important work.
As we anticipate this powerful event, it becomes evident that it will serve as a platform for critical dialogue, reflection, and exploration of themes that are central to contemporary discourse on race, gender, and colonialism. With the insights of Jenny Mitchell and Erin James, the power of poetry, and the shared experiences of attendees, this evening at the University of Sussex Library promises to be both enlightening and inspiring.