Alumni news
The Coast is Queer LGBTQ+ literature festival returns in October
Posted on behalf of: School of Media, Arts and Humanities
Last updated: Wednesday, 14 September 2022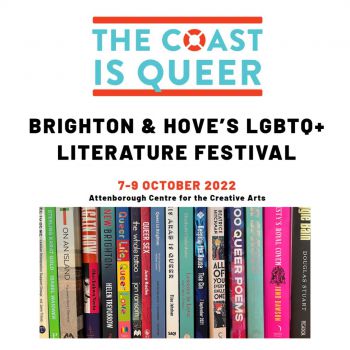 The Coast Is Queer, Brighton & Hove's celebration of LGBTQ+ writing, returns for an in-person festival from 7-9 October 2022. Now in its third year, The Coast is Queer brings together writers, poets, performers, academics, activists and readers for three days of accessible, lively in-conversation events, workshops, films and discussions celebrating queer lives and literature.
The flagship UK festival of LGBTQ+ literature is a hugely significant date in the local calendar, with over 2,000 people enjoying the inspiring and exciting events from over 80 writers since 2019. It has a new home this year and will be taking place at the Attenborough Centre for the Creative Arts (ACCA) on the University of Sussex campus.
Dr Samuel Solomon, Co-Director of the Centre for the Study of Sexual Dissidence at the University of Sussex, helped to plan the festival. Dr Solomon said:
"I'm so happy that the School of Media, Arts and Humanities at Sussex and the Centre for the Study of Sexual Dissidence are able to co-sponsor this dynamic festival for the third year running with brilliant local community partners New Writing South and Marlborough Productions as well as our friends at Brighton University. I'm especially excited that this year the event will be held on our doorstep at ACCA, bringing writing and reading communities from all over together and offering students and staff a unique chance to engage. The programme features a range of Sussex staff, students, and alums, which is a testament to our own resilient history of queer cultural production. This festival is always an opportunity for students, staff and community to think together about the role of writing, reading, and sharing books in LGBTQ+ life, and I look forward to watching it continue to grow over the years to come!"
This year, guest speakers include Sussex alumni Verity Spott (Gideon, Click Away Close Door Say, We Will Bury You) and Elizabeth Chakrabarty (Lessons in Love and Other Crimes), the Devil's Dyke Network Poets featuring a large number of Sussex alumni, Sussex faculty Dr Sara Jane Bailes and Helen Dixon. The festival will also host Sarah Winman (InWords Literary Award, Still Life), Huw Lemmey and Ben Miller (Bad Gays: A Homosexual History), and screenwriter and Sunday Times number 1 bestseller Juno Dawson (Her Majesty's Royal Coven) will also be returning with another edition of her Lovely Trans Literary Salon, this time featuring award-winning writer, performer and theatre maker, Travis Alabanza (None of The Above).
The festival offers events ranging from Panel: Queers in the library, which will be chaired by Dr Alice Corble from the University of Sussex Library, to Workshop: Cruising nature with Declan Wiffen and Saturday night out with Dj Ritu, Livia Kojo Alour, Charlie Wood and Devil's Dykes Network Poets, and much more.
View the full festival programme and book tickets, available on a Pay What You Can basis, at https://coastisqueer.com/