Alumni news
University of Sussex welcomes students back for biggest-ever graduation
Posted on behalf of: University of Sussex
Last updated: Monday, 8 August 2022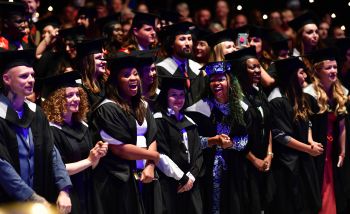 Starting on Tuesday 5 July, University of Sussex hosted its biggest-ever graduation, with ceremonies taking place across three weeks at the Brighton Centre, on Brighton seafront. The University welcomed back Sussex students from 2020 and 2021, who were unable to graduate because of COVID-19 restrictions, as well as this year's cohort of 2022 graduates. In total, over 9,684 students from 165 countries registered to attend graduation ceremonies, accompanied by 26,847 guests.
With the University also celebrating its 60th year, this year's graduates are joining the ranks of around 200,000 Sussex alumni who have undertaken undergraduate and postgraduate degrees at the University since it first opened its doors to students in the 1960s.
Amongst those that returned to Brighton to collect their certificates, was Sharon Trevillyan who finished her studies at the University in 1981 but was unable to formally graduate following a move to California. She made a special trip to the UK to participate in this year's graduation on 20 July.
Sharon said of the impact that studying at Sussex has had on her life: "I have often been asked why I have been able to travel the world (130 countries), run my own business and live abroad. The answer I give is that the University of Sussex taught me to challenge the status quo.
"If you choose to live within the boundaries then do it willingly, but not as a default. For anyone graduating with me I would say Dream Big. I have exceeded any dreams I had when I walked off the Falmer campus in 1981."
Another special moment saw a father and daughter graduate together, with the father collecting his PhD in Development Studies, which he completed in 2016, and his daughter, her LLB in Law on Tuesday 19 July.
This year's summer graduation also played host to another family of Sussex graduates, with parents who met at Sussex and graduated in 1990 attending the graduation of their son who was awarded his degree in History and American Studies from the 2021 cohort, in the second week of ceremonies.
Interim Vice-Chancellor of the University of Sussex, Professor David Maguire, said of this year's bumper summer graduation: "We couldn't be more delighted to be welcoming back Sussex students from the past few years to a magnificent celebration of their academic success. More than that, with the past few years, it's a hugely personal success too, with our students overcoming a set of circumstances not experienced in recent history.
"We're incredibly proud of their tenacity and for embodying the spirit of the University of Sussex; that of kindness, integrity, courage and inclusion. And they should be too.
"Over the 60 years that the University has been in existence our alumni have gone out in the world to challenge convention; to make pivotal scientific discoveries, to establish innovative start-up companies, to develop life-changing new tech, to rally against social injustices, to educate the next generation, and so much more besides. I can't wait to see what the 2020, 2021, and 2022 Sussex graduates go on to do."
An esteemed group of honorary graduates, from an award-winning author and social commentator to the former Director of the Mass Observation Archive, to female chemists credited with advancing the science around nuclear waste and ground-breaking research into the 3D structure of proteins, were awarded honorary degrees and doctorates.
They included: author Alex Wheatle; mathematicians Dr Philip Tee (Physics 1985), Professor Alessio Figalli and Professor Charles Martin Elliott; chemists Professor Tom Welton OBE (Chemistry 1982), Professor Dame Carol Robinson, and Professor Polly Arnold OBE (Chemistry 1994); Former Director of the Mass Observation Archive, Professor Dorothy Sheridan MBE (Sociology 1967); trade union leader Sally Hunt OBE (Politics and International Relations 1983); and historian Professor Roy Macleod, one of the co-founders of the Science Policy Research Unit (SPRU).
To see photo highlights from the three weeks, visit our Sussex Alumni social channels and search using #SussexGrad and #ForeverSussex.
Videos of each ceremony can be downloaded or watched online via our Graduation webpage.