Alumni news
2021 Mentoring Opportunities
By: Ruby Moore
Last updated: Wednesday, 15 September 2021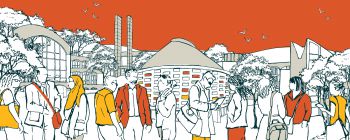 "The experience as a mentor has been extremely rewarding, and I cannot think of a better way to pay it forward…the idea that we get to be part of someone else's life and help them to succeed early on should be considered a privilege." – Prateek Sureka (Technology and Innovation Policy 2008).
Sussex Connect is our exclusive e-mentoring and networking platform for the Sussex community. Many of you are already making use of Sussex Connect's mentoring features to support your development. To support further mentoring matches on the platform, we're introducing two new programmes launching in October.
Career Lab Programme – for recent graduates and final year students
Do you want to share your experience and expertise to help Sussex students prepare for graduate life? We're looking for recent graduates (who graduated between 2018-2021) to join our new Career Lab Mentoring Programme, supporting final-year students to feel confident about their options after university. You'll provide mentoring via Sussex Connect for nine months, with full training provided. Express your interest by contacting Programmes Officer Lauren Wright l.f.wright@sussex.ac.uk.
Global mentoring programme – for all Sussex Connect members
For those not eligible to take part in the Career Lab Programme and those recent graduate mentors who would like to continue their development with a mentor, we're also introducing the global mentoring programme.
This mentoring programme will be open to all Sussex students and alumni. Find out more and sign up here.
If you're interested in being a mentor or finding yourself a mentor, make sure you've signed up to Sussex Connect and update your 'willing to help' and mentoring settings.