Alumni news
Alumni remember Jimi Hendrix Sussex gig for new project
By: Tom Furnival-Adams
Last updated: Wednesday, 7 August 2019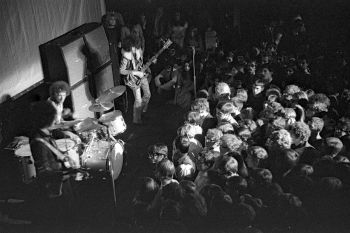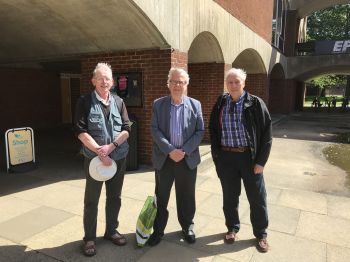 More than fifty years after seeing Jimi Hendrix perform at Sussex, three alumni returned to campus in June to share their memories of the gig with academics writing a new book on the legendary American guitarist.
Andrew Forrest (AFRAS 1966), Graeme Knott (ENGG 1966) and Roger Martin (AFRAS 1966) were all present when The Jimi Hendrix Experience played to students at the New Refectory in Bramber House (now Dine Central) on Saturday 11 November 1967.
Academics Christian Lloyd and Samantha Simpson from The Bader International Study Centre (the UK Campus of Queen's University, Canada) are researching Hendrix's relationship with different cultural traditions for an upcoming book entitled Alias Jimi Hendrix.
Andrew, Graeme and Roger described to them a short, aggressive and memorable set which took place on a makeshift stage consisting of roped-together tables with mats on top. They also explained what campus life was like generally for students in the late 1960s.
The Jimi Hendrix Experience – featuring Hendrix alongside bassist Noel Redding and drummer Mitch Mitchell – were supported by blues rock band Ten Years After and performed hits including Hey Joe, The Wind Cries Mary and Purple Haze.
Several other alumni attendees from the UK and beyond have contributed to the project remotely after the University's social media posts were picked up by BBC Radio Sussex.
Andrew said: "It was super to be back at Sussex, and a great pleasure to reminisce with Graeme and Roger. Our collective memories really brought the Hendrix gig back to life, with Roger involved in booking the band and Graeme building the stage."
Roger added: "it was fun to be back at Sussex, not as an incumbent but equally not quite as an outsider. Remarkably our memories [of the gig] were quite consistent – Jimi was late, he was tired and he was grumpy. But when he hit those opening chords the New Refectory became electric and everything was forgiven."
Did you see Jimi Hendrix, or any other memorable gigs, when you were at Sussex? Browse alumni gig memories from the 1960s to the 2010s on our website and send us your stories and photos.