Upcoming events
The Power of Poetry and Living Libraries for Decolonial Dialogue
Thursday 28 September 17:00 until 19:00
University of Sussex Campus : https://www.eventbrite.co.uk/e/the-power-of-poetry-and-living-libraries-for-decolonial-dialogue-tickets-708559288907?aff=oddtdtcreator
Speaker: Jenny Mitchell, Erin James, Dr Alice Corbell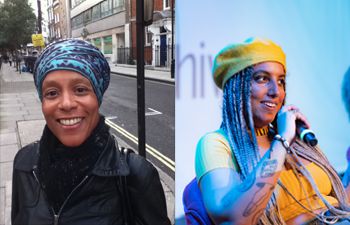 Join us for an evening of inspiration and connection at the University of Sussex Library in Brighton! On Thursday 28 September, at 5pm, we will explore the transformative impact of poetry and living libraries in fostering decolonial dialogue.
Through the unique concept of living libraries, we will bring together experienced voices and perspectives to challenge colonial narratives and foster decolonial dialogues. Immerse yourself in the captivating words of talented poets, who will share their experiences and insights.
University of Sussex alumna and award-wining poet Jenny Mitchell will perform readings from her collections and offer reflections on themes in her work relating to race, gender and legacies of colonialism. Jenny will be invited to reflect on the role that libraries and archives can play in these themes and in her past and present experiences of university and library spaces and collections. Brighton-based poet and multi-modal artist, Erin James, will respond to Jenny's presentation with her own reflections on these topics, which she developed in her Live Archive project via her recent Stuart Hall fellowship at Sussex. Together, Jenny and Erin will generate a participatory and intergenerational discussion on diverse experiences of being in university and library environments, reflecting on creative ways in which these spaces and collections might be decolonised through the power of poetry and live archives of experience and knowledge. The discussion will be co-facilitated by Dr Alice Corble, University of Sussex Library Teaching and Learning Supervisor and RLUK-AHRC Library Research Fellow.
Jenny Mitchell won the Gregory O'Donoghue Prize 2023 for a single poem, and the Poetry Book Awards 2021 for her second collection, Map of a Plantation, which is on the syllabus at Manchester Metropolitan University. The best-selling, prize-winning debut collection, Her Lost Language, is One of 44 Poetry Books for 2019 (Poetry Wales), and her latest collection, Resurrection of a Black Man, contains three prize-winning poems and is featured on the US podcast Poetry Unbound. She's won numerous competitions, is widely-published and has recently performed at the Houses of Parliament. Her latest project is After Jane Eyre.
Erin James is a Brighton-based multi-disciplinary artist, with a focus on the merging of art and activism through their practices. They are the founder of the socially engaged zine Tough Cookie, as well as a poet, DJ, photographer and curator. They are the 2023 Stuart Hall Fellowship at Sussex University, focussing their research on poetry and music as an alternative output for academic research and archiving. All of Erin's work revolves around mental health, activism, using joy as an antidote to hate, and normalising "stigmatised" subjects.
We aim to encourage conversations, understanding, and solidarity. Whether you are a poetry enthusiast, an advocate for decolonization, or simply curious, this event is for you.
Join us at the University of Sussex Library, located in Brighton, BN1 9QL, for an evening that promises to inspire, provoke, and ignite new perspectives. Don't miss out on this thought-provoking event!
---
By: Ciaran Clark
Last updated: Friday, 8 September 2023