Upcoming events
Pushing and constraining factors in energy policy-making: explaining the choice for nuclear energy
Tuesday 12 October 13:00 until 14:00
Online
Speaker: Duygu Sever
Part of the series: Energy & Climate Seminar Series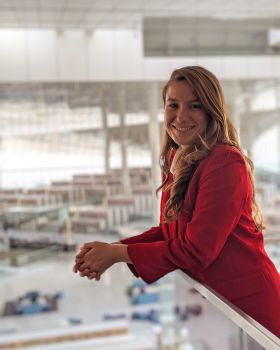 This seminar will be held on Zoom. If you are outside SPRU and interested in attending, please email fd49@sussex.ac.uk.
Abstract
Nuclear energy is one of the most questioned energy resources, for which the striking divide between the opponents and proponents is deeper than in any other energy resource. Heated debates about nuclear energy contain the intricate discussion of a variety of advantages and risks which applies to every country. However, the way these factors are interpreted changes significantly as revealed by states' divergent nuclear energy policies and increasing interest on nuclear by some developing countries.
This study focuses on the underlying forces in energy policy-making from the stand point of nuclear. The research investigates the causal mechanisms regarding pushing and constraining factors in nuclear energy policy-making and targets to find out which elements are separately necessary or jointly sufficient to affect a state's nuclear energy policy. Moreover, the study seeks to answer how the risks and advantages of nuclear are transformed into a state's decision, by providing a deeper look at socio-political dynamics at the intersection of national and international levels. In order to decipher the complex mechanisms in nuclear energy policy-making, the study presents an analytical comparison of France, Germany and Turkey, with three different nuclear energy stories. The data is collected from the fieldwork conducted in these three cases via semi- structured interviews with high-level experts. The findings are based on a multimethod analysis using MAXQDA.
By offering an analytical mapping and a policy framework on nuclear energy policy- making, the research aims to contribute the literature on comparative politics, on public policy-making in the realm of energy and on understanding political aspects of low-carbon resources in the wake of global energy transition.
Biography
Dr. S. Duygu Sever works on the intertwined relationship between energy politics, sustainability and human security, with a specific interest on the politics of nuclear energy. She holds a PhD in Political Science and International Relations from Koç University, Turkey. Until recently, she has worked as a Visiting Researcher at IFRI (Institut Français des Relations Internationales) - Center for Energy in Paris, France. She also worked for the European Union Horizon 2020 Project, FEUTURE (The Future of EU-Turkey Relations: Mapping Dynamics and Testing Scenarios), in Energy and Climate Drivers. Her research projects address energy transition, sustainable development and policy making, by combining global-national dynamics with climate change, geopolitics and international relations.
Along with her academic activities and several publications, Duygu has also been a delegate in major platforms including Next Generation Delegates by Chicago Council on Global Affairs, Women in Energy, Young Leaders in Energy Initiative, Likeminds: German-Turkish Junior Expert Initiative (launched by Robert Bosch Stiftung, European Academy of Berlin and Istanbul Policy Center) and Global Relations Forum-Young Academics Program. She has been a recipient of numerous scholarships including Young Visiting Researcher Fellowship by the Embassy of France, Koç University GSSSH Fellowship-Scholarship for Outstanding Success and TÜBİTAK (Technological and Research Council of Turkey) Scholarship. She also teaches interactive seminars for the promotion of Sustainable Development Goals and offers mentorship to encourage young students for engaging in green innovation and entrepreneurship in sustainability.
---
By: Francisco Dominguez
Last updated: Friday, 18 June 2021