From sea to store
Sussex graduate Lucy Hughes (Product Design 2015) has won international recognition for her packaging material made from fish waste. Now she is working on bringing it to market.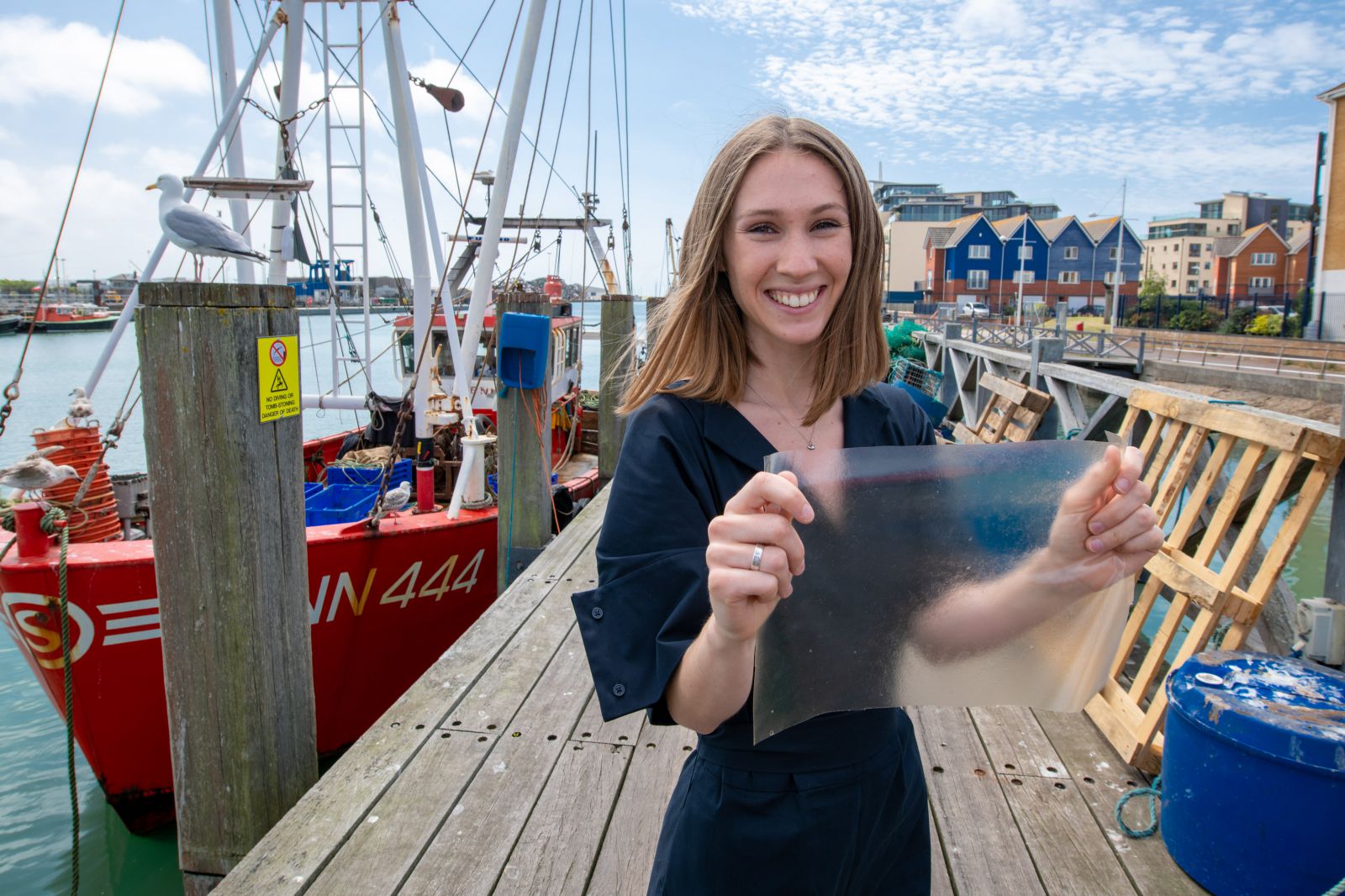 Lucy Hughes at Newhaven Harbour holding a sheet of Marinatex
Our oceans are filling up with plastic; more than 150 million tonnes of it reportedly floating around the world. By 2050, weight for weight, it's predicted that our seas will contain more plastic than fish.
It was this alarming forecast that inspired Lucy Hughes to create a biodegradable alternative to plastic as part of her University of Sussex product design degree course. The most apt feature of her product – a clear film that can be used for packaging, among other uses – is that it's actually made from fish waste.
Last year Lucy's invention, which she has named MarinaTex, landed her the prestigious 2019 James Dyson Award, beating more than 1,000 other entries from young engineers worldwide.
Awarding her the £30,000 prize, Sir James Dyson said, "Ultimately, we decided to pick the idea the world could least do without.MarinaTex elegantly solves two problems: the ubiquity of single-use plastic and fish waste."
Lucy, who graduated in 2019, also won the University's StartUp Sussex Social Impact Prize which is generously sponsored by Simon Segars (Electronics Engineering 1987) and worth £10,000.
In the past year, the 24-year-old from Twickenham has been working with government-funded laboratories to explore the full properties and potential of MarinaTex, as well as having conversations with supermarkets and businesses interested in following its development.
She is thrilled that, even though sustainability may have been moved down the agenda during the Covid-19 pandemic, there is still commercial interest in her product. But her motivation has never been about making money.
"I wanted to find the place where the material could make the most amount of difference," she says. "I was an avid viewer of the BBC's Blue Planet, which showed the amount of pollution caused by non-biodegradable plastic in the oceans. It makes no sense to me that we are using plastic, an incredibly durable material, for products that often have a lifecycle of less than a day."
Lucy chose to study product design at Sussex because of the course's strong reputation for being environmentally conscious. "Sussex teaches how we can move from a linear model – in which we take from the earth, make something from it and then dispose of it – to a circular model that is restorative and regenerative by design," she explains. "It's about closing the loop, making us rethink how we consume and use products, and what we waste."
With this in mind, she set about exploring the possibility of making a biodegradable material from fish waste.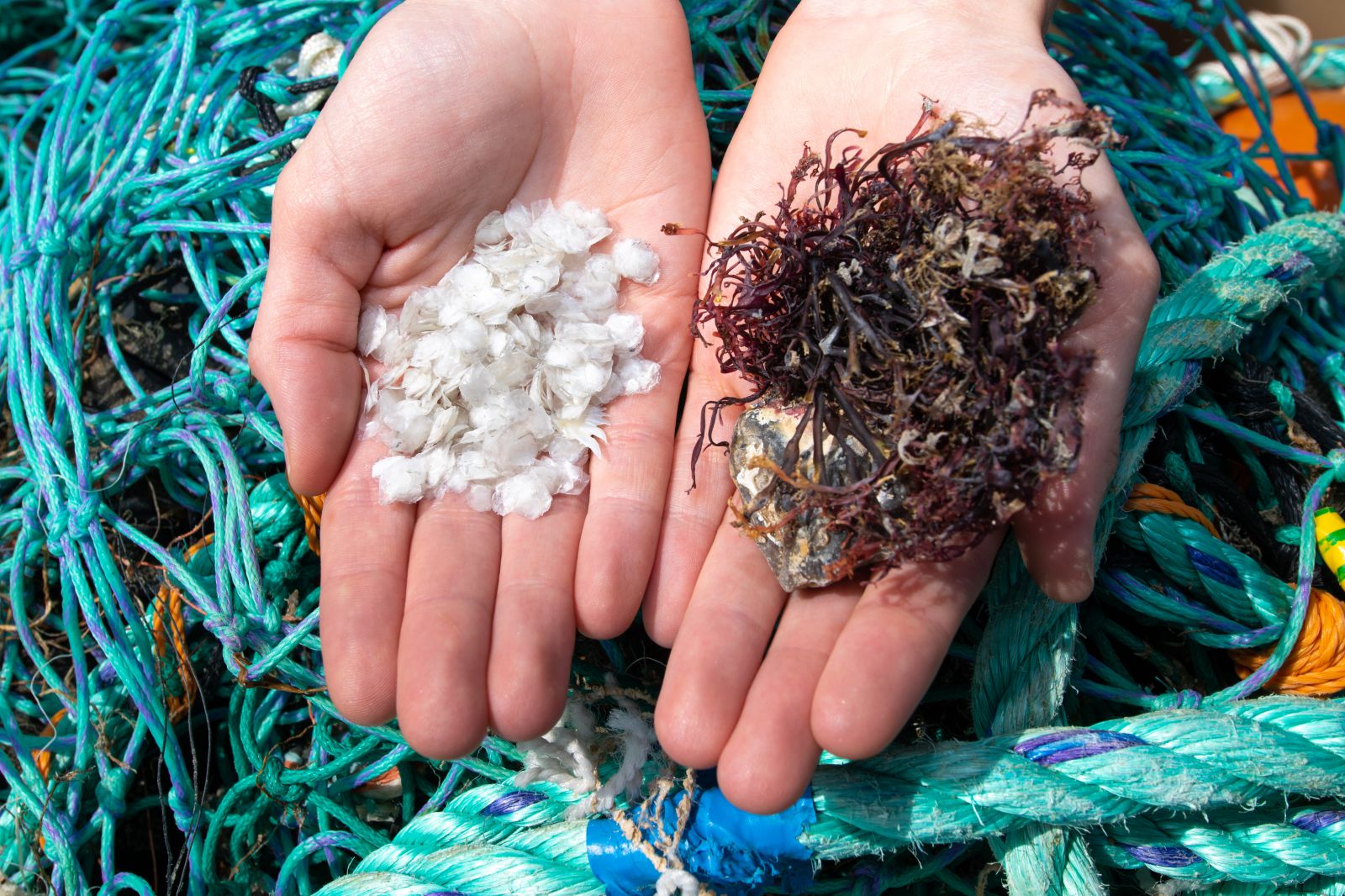 Lucy holds materials used in her experiments: fish scales and seaweed
In the early stage of her research, she came across algae bioplastics, which are made from red algae. But her attempts to produce it resulted in material that was too crinkled to be of practical use.
After visiting MCB Seafoods Ltd, a Newhaven-based sustainable fish processing plant and wholesaler, and being shown their waste stream of fish offcuts and skin, as well as shells and crustacean skeletons, she began experimenting – mostly in her student kitchen – with adding this waste to the basic algae formula. Initially she tried grinding shells and skeletons with a Nutribullet food blender and a pestle and mortar to add to her formula. When this proved unsuccessful, she moved on to working with fish skin and scales.
"There were a lot of times at the beginning when things were going mouldy and I was wondering what the hell I was doing," she says. "My friends and family thought I was crazy. I went between the kitchens in my student home and my family home in London and everyone had to put up with the smell of fish. Even when you store fish in the freezer, you can smell it because fish are cold-blooded and their enzymes are still active.
"Finally, because fish skin contains protein structures that are strong and flexible, she was able to produce a translucent yet durable film that could replace plastic film to wrap food with. It would also biodegrade within six weeks, which is faster than many other bioplastics.
In addition, MarinaTex is economical – one Atlantic cod could generate the organic waste required to make 1,400 bags of MarinaTex. Production of the bioplastic is also relatively low-tech, requiring temperatures below 100 degrees Celsius.
---
It's about closing the loop, making us rethink how we consume and use products, and what we waste.

"

Lucy Hughes


Product Design 2015
---
Now, with industrial production on the horizon, Lucy is excited about what the future holds for her product. "I didn't know much about the business side, so the support and funding from Dyson and from the University has been really useful," she says. "I've been analysing the market, researching potential people that I can work with, and trying to understand consumer behaviour – all the preliminary work that has to be done before putting a product on the market.
"What has surprised me is that, even during the pandemic, people still want to talk to me about the product," she adds. "As we have seen, particularly with the need for disposable PPE [personal protective equipment], plastic still outshines all other materials in the medical sphere. But it doesn't have to be used for everything."
---
You might also be interested in: