Let's talk about death
After the sudden loss of her father and her resulting confusion and frustration about society's cultural disassociation with death, Louise Harman (Literature and Philosophy 2020) set up Louise on Death, a movement and enterprise that aims to encourage curiosity over recovery and open conversation about death.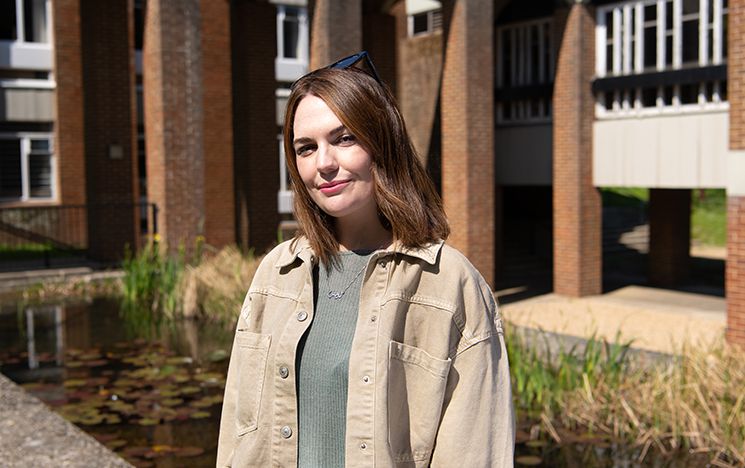 Louise's story
In a serendipitous turn of events, the genesis of Louise on Death began six years ago when Louise Harman noticed a posy of flowers left in a field while walking on the South Downs. Every two weeks a new bouquet appeared. It sparked her curiosity sufficiently for her to leave a note enquiring about the purpose of the tribute. The person leaving the flowers – a widower called Bob – replied and attached a photo of his wife Jeanne and the card from her funeral service.
A regular written exchange between Louise and Bob ensued, both sharing stories and their life experiences. In 2017, when Louise's dad David died suddenly, Bob was there for her.
Following her father's death, Louise endured a challenging period of declining mental health. She experienced a feeling of suffocation brought on by society's lack of ability to discuss death, and the shame she felt was inflicted upon her for wanting to continue to talk about her experience in the aftermath of the event.
"People expect you to move on quickly through grief, but Bob reminded me that I didn't have to follow a timescale and that it's not wrong to hold on to people you love after they have died or to think about death," says Louise. "He had been grieving for his wife for nine years, and his wisdom opened my mind to just thinking differently about it." Louise subsequently enrolled on a Literature and Philosophy MA at Sussex and found herself looking for material that would help her engage with what had become her new "reality".
"I accumulated so many helpful resources from various disciplines – resources never once recommended to me from conventional sources – which I am now passionate about making accessible to others," she explains. "I was profoundly disinterested in anything that involved box ticking or form filling about how I felt. Even the slightest hint of anything related to 'recovery' or a 'cure' for grief rendered me highly sceptical. I simply wanted words that allowed me to sit in line with my reality. I wanted to explore every part of my mind: the good, the bad and the seriously ugly. And I wanted to feel less alone."
During the Covid lockdown of 2020, Louise enrolled on a StartUp Sussex programme to learn about social enterprise and acquire business skills. At the same time and for the first time, she shared her story about Bob on a social media platform. The overwhelmingly positive response that it generated was a real motivator and, at that moment, the idea of founding an enterprise that focused on the concept of encouraging open and honest conversation about death, with a heavy dose of curiosity, dawned on Louise.
"We live in a society obsessed with distraction disguised as positivity," she says. "There is nothing wrong with taking time out and blocking anything that is too much to cope with but, at some point, you come to realise that all the 'positive things' you 'should' be doing are doing more damage."
"There is no right or wrong, or good or bad, way to deal with death," she adds, "but I
definitely knew I didn't have a disease. So, I put my name next to death, to claim my right to be open about a subject that's become increasingly depersonalised and over-medicalised. This is not healthy. We have the right to speak, to share, to understand."
Consequently, Louise's innovative concept bagged her Sussex's Social Impact Prize,
which recognises the enterprise with the most potential to bring about social change. It's a win she refers to as "a monumental breakthrough." She was also awarded the title of Sussex University Entrepreneur of the Year 2021.
I am thrilled to have Michael Attenborough on board. We have lots of ideas to contemplate –podcasts, exhibitions, a book, educational talks...."

Grateful to Sussex for giving her the foundation to kick off her venture, Louise's vision is to build a brand and community, including a digital platform, that unashamedly and creatively explores death. It's an idea that formed whilst she was writing her Masters thesis, which focused on narrative theory, photography and death. "I see myself as an artist and researcher and that is how I plan to move forward with my explorations," she says.
Louise also now has the support of internationally renowned theatre director Michael Attenborough CBE, son of Lord Richard Attenborough, Chancellor of Sussex for 10 years, and nephew to environmentalist Sir David. Michael is a Sussex English graduate (ENGAM 1969) and the recipient of a Sussex honorary doctorate.
Michael is also no stranger to death, having lost his sister (also a Sussex graduate) and his niece in the Indian Ocean tsunami of 2004. "Michael has a huge heart and out of curiosity wanted to meet up after reading an article about me and how the arts had helped me during difficult times," says Louise. "We are now working together and I am thrilled to have him on board. Amongst our plans and aspirations, we are building towards Attenborough Centre for the Creative Arts, my absolute favourite place on campus, being at the centre of our work. We have lots of ideas to contemplate – podcasts, an exhibition/death festival, a book, educational talks, and, if I can swing it, maybe even a film. StartUp Sussex taught me to aim high!"
Find out more at www.louiseondeath.com
---
You might also be interested in: