Welcome to the jungle
In creating an ethical chocolate brand that reinvests its profits into conservation projects, Martin Simonneau (International Relations 2008) and Proyecto Washu are aiming to establish a blueprint for other NGOs working on similar challenges the world over to adopt.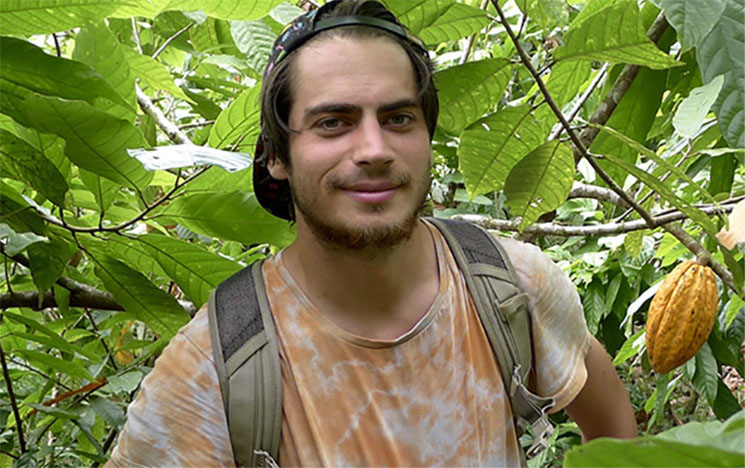 The Ecuadorian jungle
The rainforest is magical. There was one time I took a friend of mine and we were sat out in the middle of the night. I felt confident enough that I'd been enough times to take him myself, without the help of any of the locals. It was terrifying because you're walking in complete darkness. You can hear things, but you can't see anything. It's quite profound, a place of real reflection. Your mind is in total expansion constantly.
Martin Simonneau's journey from the rolling hills of Sussex to the Ecuadorian jungle is serendipitous but oddly logical – a case study in following your passions and taking opportunities as they come. Having grown up in Nelson Mandela's South Africa – "he was a very inspirational person in terms of creating the space for people that used to be enemies to come together" – Martin went to school in France, but grew frustrated by an education system that felt elitist and restrictive. It was this sense that led him to the UK, and the "open-mindedness" of Sussex, to study International Relations – a subject that interested him, but which was simultaneously "vague" enough to leave his options open.
After a formative year abroad in Chile, which equipped him with Spanish language skills and gave him the opportunity to travel the South American continent, he knew he was destined to go back. But it is undoubtedly Martin's love for Sussex and the community spirit that he found there that provides the binding glue to his experiences so far. His nostalgia for East Slope Bar resonates strongly. As well as spending time on the Downs behind campus when the weather was good, he become an East Slope porter for a while after graduating – "I didn't want to leave Brighton at all". Your House by Birmingham reggae band Steel Pulse is the song that reminds him most of Sussex, the place where he met his girlfriend Rosa – they now have a 14-month-old son together – and where he first came to know Dr Mika Peck, Senior Lecturer in Biology at Sussex.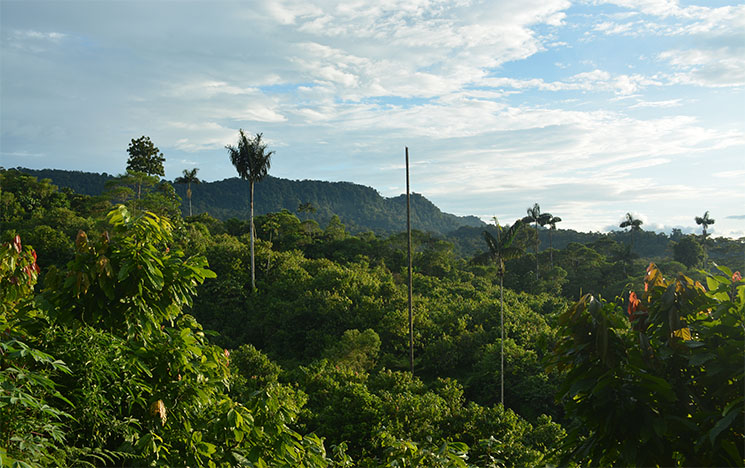 Rosa was studying for her PhD in biology at Sussex with Mika as one of her supervisors. Mika, a conservation biologist, was setting up a project to save the spider monkeys in the northwest of Ecuador by establishing a cocoa cooperative. The aim wasn't to produce as much cocoa as possible to sell for profit, but to protect the rainforest and find solutions to deforestation. Rosa was heading out there and Mika asked Martin to go with them and help.
"[Mika's team] had worked with that particular community for quite a while already, mainly doing a lot of research on the monkeys, on their habitat, on why they're key indicators for forest health. They'd already started getting the community involved, but they wanted to empower them to make their own decisions and really understand the value of the forest, why it's important to protect it and how it mitigates climate change."
Martin began attending Mika's lectures to prepare himself for living in the rainforest. He had studied Environment and Development in World Politics with Professor Peter Newell in his third year at Sussex, which laid the foundations for his interest in environmentalism, and had just returned from a stint living in Honduras working on land use projects. "I decided to just be poor and try out different things and see where I landed."

In 2005, biologists estimated that there were only 250 brown-headed spider monkeys left in the wild. University of Sussex surveys through the Chocóan rainforests of NW Ecuador identified one of the last healthy populations of 150 primates in a 30km2 area of unprotected forest at Tesoro Escondido (Esmeraldas Province). Mika's aim was to gain the confidence and trust of the local community in order to get close enough to study the spider monkeys. "It's quite hard to set up a project if you don't have local allies. I think it's a major issue for so many Western NGOs. There's all the NGO colonialist aspect of, 'Okay, we're coming in to intervene because we do it better'."
---
The Washu story is incredibly grassroots. It's still super small. What's interesting is that it came from academics, so it's really rooted in an understanding of conservation science.

"

Martin Simonneau


International Relations 2008
---
Mika and his team became involved with the local community in a social and meaningful way – partaking in parties at the dinner table, getting involved in family life, even in household life – and were quickly welcomed into the inner circle. They have now been working together for 10 years – "It's almost family for a lot of them". For Martin, improving livelihoods goes hand in hand with conservation: "When you look at what drives forest degradation and deforestation, it's a lot of socioeconomic, political factors. There's poverty. There's a really restless political climate and you're getting no social benefits in the region."
Interestingly, Proyecto Washu's approach of empowering rural communities is a model that many conservation NGOs have adopted, referring to it for similar conservation challenges elsewhere. "The Washu story is incredibly grassroots. It's still super small. What's interesting is that it came from academics, so it's really rooted in an understanding of conservation science."
Martin found working in the rainforest far from easy, however. It involves long days and arduous physical work. Despite efforts to build connections and understanding with members of the local community, the gap between their world and the Western world experienced by workers and volunteers never disappears. For Martin though, the fairy-tale enchantment of the dense jungle is just reward for the hard work: "If you have the opportunity to go to the rainforest, do go because it's magical."
The Washu initiative evolved from Mika's work with the community on sustainable livelihoods. As Mika returned to focus more on his research, Washu was developed by local biologists and, with Martin's support, now helps producers access niche markets and international buyers by way of an ethical chocolate brand. "We all learnt on the spot and we're still learning. We're making mistakes all the time. Ideally, we'd love to make a little bit of money out of it. But we're not massively ambitious. Ultimately, the goal was to build this to supply the financial needs of the NGO."
Currently based in Cornwall, Martin now works for Cool Earth, an experimental non-profit organisation that works alongside rainforest communities to halt deforestation and climate change. Founded in 2007, Cool Earth has initiatives all over the world, from Papua New Guinea to Congo. Martin project-manages the Peruvian partnerships and attributes his time living in the Ecuadorian rainforest (as well as a short stint working as a research assistant at the University of Exeter) as having helped him land the role. "[It's] thanks to the chocolate project, the spider monkey project. I'm pretty much here because of that."
Martin's work with Washu and Cool Earth have helped him to truly understand and appreciate the importance of the rainforest, not to mention the communities who are "incredible protectors of this particular ecosystem". When asked if he feels that those of us living in urban Western environments struggle to understand how important the rainforest is to the global ecosystem, his answer is a resounding "yes".
"I think until you've experienced it or met the people that are there, it's really hard to find the connection. I've seen a few things with my own eyes, but I think I've got a lot to learn still. Businesses and government have a major role to play. That's the real hard fight ahead because, how do you influence governments? How do you influence big businesses to make that change? But you need to remain optimistic... Of course, it's going to be difficult to address, to fight, but I feel like with the movement that's being created, plus the improvements in technology, there are plenty of reasons to feel optimistic."
---
You might also be interested in: