The fabric of our lives
When the coronavirus pandemic began its lethal spread across the world, Mamunur Rahman (Gender and Development 2006) took action, mobilising his contacts and resources to help people in Bangladesh.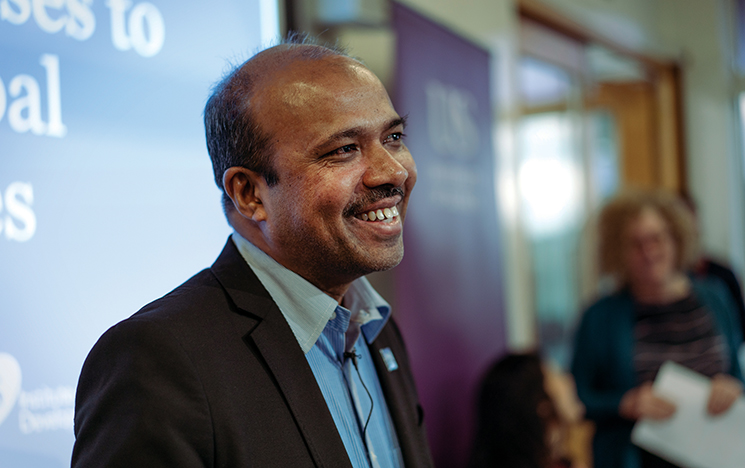 Early on in the Covid-19 crisis, social entrepreneur Mamunur Rahman quickly realised he had access to the resources to manufacture up to 160 million general-use free face masks for his country's poorest communities.
The masks were initially produced by workers in nine factories that form part of the Ella Alliance, a garment factory partnership previously set up by Mamunur, for which he was awarded the British Council's Entrepreneurial Award in 2019. The factories also make washable, low-cost and eco-friendly sanitary napkins from surplus textile materials.
"Once the virus spread, people rushed to buy plastic-based masks at high prices. Many couldn't afford them," says Mamunur.
"Moreover, we also observed that people were indiscriminately throwing away the nondegradable masks in the street, causing not only the quick spread of the disease but also polluting the environment.
"The situation compelled us to come up with a solution. Our partner factories responded quickly and many more joined with us to make the washable masks using their available scraps of material. To distribute these nationwide, we involved the government."
The Alliance researched sources, including the World Health Organization and the Centers for Disease Control and Prevention (CDC), to understand how the masks should be tailored to cover the essential parts of the face. The design was then shared across the factories.
---
Mamunur's Ella Pad initiative has so far improved the health, hygiene and employment opportunities for 100,000 Bangladeshi women


---
"We had to respond, to save the people and save the planet as well," explains the entrepreneur. "By replacing plastic-based masks, we were going to save billions of litres of water and millions of tonnes of carbon dioxide."
Mamunur's response to the Covid-19 pandemic is the second example of how he has combined compassion and industry to benefit the health of his nation. This time, he had to convince the highest levels of policymakers to bring both the public and private sectors together to help solve the national crisis. And he credits Sussex's rich seam of research in sustainability, as well as the network of Sussex communities he is in touch with, for giving him the strength to take this action.
Born into a poor community in Bangladesh, Mamunur was the only one from his family to graduate from high school. He went on to study for a Masters in Gender and Development at Sussex in 2006.
When he applied for a Chevening Scholarship to study for the Masters, taught jointly by the Institute of Development Studies (IDS) and the University of Sussex, he was working in the development sector in Bangladesh. He believed further education would lead to a career in development in the UK. Instead, through a raised awareness of how he could do something to help the health and social inequalities in his own country, he returned to Bangladesh after leaving Sussex.
"We always used to think that, to solve our problems, we needed resources from Western countries," he says. "We thought that, if we didn't have the resources, we couldn't do it. But being at Sussex showed me that we have resources that we are not using. So it built my confidence to do something about it. The Community-Led Total Sanitation (CLTS) programme at Sussex has helped us to solve our own problems.
"After graduating from Sussex, he joined the Ministry of Industries in Bangladesh, which serves eight million small- and medium-sized enterprises. His role was to lead the research and policy advocacy teams promoting women entrepreneurs. In 2012, he carried out a survey of factory workers and found that women had very little access to toilets, which meant they were taking up to three days off work every month because of menstruation. This equated to 200 million workdays lost every year across the industry.
"This is the first generation of women who are working in factories and they are very shy," says Mamunur. "Menstruation is such a taboo subject that they cannot talk to management about it."
He recognised the same issues among schoolgirls, who were dropping out of education because of the prohibitive cost of menstrual hygiene products. "My own sister didn't finish her education," he says.
Realising the potential to make washable and eco-friendly sanitary napkins from some of the billion bales of waste textiles produced by the garment industry, he set about raising awareness and funds for his Ella Pad initiative, eventually receiving a grant from the US State Department.
Through working with factory owners, the Ella Alliance has enabled women involved with napkin manufacturing to become entrepreneurs. Mamunur's initiative has so far improved the health, hygiene and employment opportunities for 100,000 Bangladeshi women. The ambition is to reach the four million women working in the garment industry and the 10 million girls in education.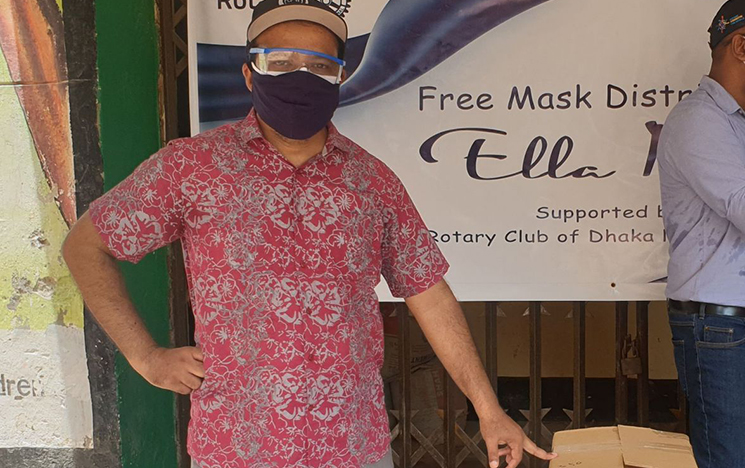 Mamunur with Ella Alliance face masks at one of the free distribution points in Bangladesh.
"We also want to scale-up the project in other developing countries where female factory workers face similar challenges," he says. "At the same time, we want to encourage a shift in global culture, away from plasticbased disposable sanitary napkins towards an eco-friendly sustainable solution of washable sanitary napkins."
With the napkins – and now also the masks – meeting an urgent need, Mamunur's greatest satisfaction is seeing how he has been able to make a difference to people's health and welfare in his country.
"Coming from a poor, rural background, where I was the only one from my family who has been able to do a Masters in the UK, I know I have been super lucky," he says. "I think my responsibility is to give something back to society."
---
Could you be one of the next year's global Alumni Awards winners?
The Study UK Alumni Awards are launched each autumn. For more information on the competition criteria and to view past winners, visit https://study-uk.britishcouncil.org/alumni-awards
Watch Mamunur and fellow global award winners Réjane Woodroffe (Development Economics 2004, Sussex) and Noah Aboueldahab (Durham, SOAS) visit the UK for a week of business and government meetings, and a return to campus (2:44mins)
---
You might also be interested in: