Together we're stronger
Having a network of good relationships and collaborating on new initiatives that will have influence can be a real confidence builder. During the Covid-19 pandemic, the positive impact from staying connected became even more apparent and the timely launch of the Sussex Connector Programme has seen students, staff and alumni working together to enhance life experiences on campus and beyond.
My experience as an Alumni

Relations Connector was

overwhelmingly positive...

a great opportunity to

develop professional and

interpersonal skills, and to be

heard within the University

."EDWARD HARVEY
Psychology 2018
The Connector Programme has been running at Sussex since January 2020, and in that time we have seen it make a significant impact on the Sussex community. In this programme, areas of work are identified across the University that could improve the student experience, and we hire Student Connectors to co-create and work in equal partnership with Staff Connectors to design and deliver these projects. Since it began, the programme has grown from 12 Student Connectors to nearly 400 who collaborate with staff on more than 40 different projects.
These projects are as diverse as embedding technology in learning, to co-designing new modules, to increasing student engagement with Schools and services. Student Connectors gain valuable experience in a supportive working environment, which builds personal and professional skills and confidence in a paid role. Staff Connectors gain a fresh, diverse and informed student perspective, as well as intrapreneurial, passionate and energetic new team members. The Connector teams' dynamic of equal partnership and shared responsibility means that student/staff relationships become stronger, building a more connected community at Sussex.
A team of seven Student Connectors have also been working to design, shape and deliver the Spirit of Sussex Award, which celebrates extra-curricular and voluntary achievements. Having a co-created Award with student input makes it relevant, exciting and accessible for all students. They bring a fresh and unique perspective and have been responsible for the development of some crucial elements, from how many points activities are worth to the visual identity and branding.
Another notable Connector project was run in collaboration with the Sussex Alumni Relations department in 2021. This project aimed to support current students to better connect with and benefit from the wealth of expertise among Sussex alumni, through events, mentoring and more. Below, we hear from two of our Alumni Relations Connectors about their experiences.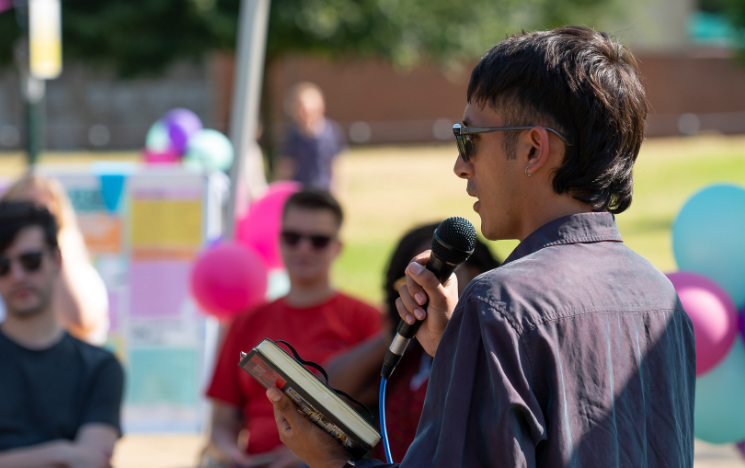 Building relationships
One of my most notable achievements while working as an Alumni Relations Connector was the graduate event we ran in July 2021. As Student Connectors we were solely responsible for organising this event, from finding speakers to managing polls and timings. The theme was burnout and imposter syndrome in the workplace, as we believed it was important for recent Sussex graduates to know these feelings are common.
I feel I achieved a lot with my colleagues and as an individual. I ran my own page on Sussex Connect, developing all the content and ensuring it was engaging. Using social media in a professional setting was one of my goals at the start of the project so I'm glad I was given the opportunity to do this.
An extra opportunity arose to help respond to emails in the alumni inbox, which I took up. I was able to build my own relationships with alumni via this channel. One in particular was schoolteacher Tom Mumford (Pedagogy and Practice 2016), who is going to be rowing across the Atlantic in 2024 to show the children he works with that anything is possible with hard work and dedication.
The Connector Programme helped me to feel more connected to the University at a time where I felt quite disconnected due to the adoption of online teaching. All of the staff I worked with valued my opinions just as much as anyone else. I would highly recommend getting involved in the Connector Programme.
EMMA CRAWFORD (DATA SCIENCE MSC 2020)
Improving key skills
As an Alumni Relations Connector I worked on many different sub-projects. One of these was helping to organise and run the 'Make It Happen' events which feature inspirational alumni speaking to current students about their journeys. For me, the most interesting event was the Careers in Government and Public Services Zoom conference featuring Fiona Stone (Social Psychology 2000).
Fiona is Head of Youth Strategy and National Citizen Service at the Office for Civil Society and a Sussex Psychology graduate. I wrote an 'alumni story' about Fiona and her journey for the University's website. The article described Fiona's background and career, as well as quotes from her Make It Happen event speech. Through the writing process, I gained valuable skills including how to network on platforms, such as LinkedIn, as well as improving my literary skills.
I also grew in confidence by attending the Make It Happen events because as an Alumni Relations Connector, I facilitated breakout rooms that were used for networking between alumni and students.
My experience as an Alumni Relations Connector was overwhelmingly positive and the Connector Programme was a great opportunity to develop professional and interpersonal skills, and to be heard within the University.
EDWARD HARVEY (PSYCHOLOGY 2018)
We
are immensely proud of the fantastic work
of all our Student and Staff Connectors and look
forward to partnering with many more during the
next year.
---
You might also be interested in: