Sussex at 60
On 16 August 1961, the University of Sussex received its Royal Charter. It was an historic moment, not just for Sussex but for higher education in the UK. In 2021, we celebrate the 60th anniversary of our becoming the first of the 'Golden Age' universities in the UK. A new university with a new approach.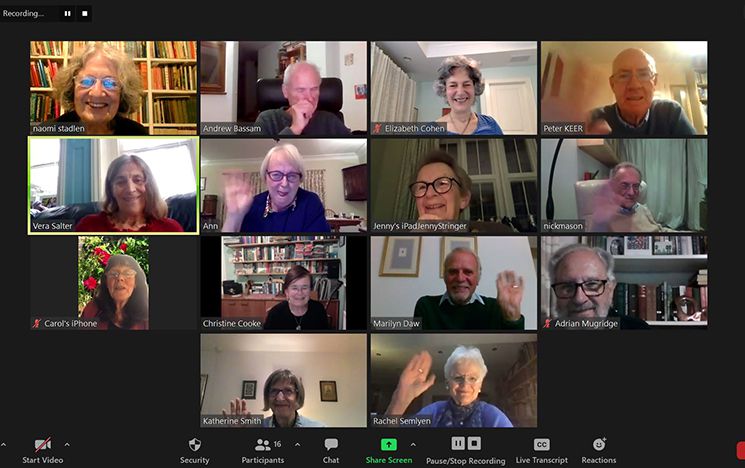 One autumn evening in 2021, a Zoom reunion was held as part of our diamond anniversary celebrations. Organised by Naomi Stadlen née Jacoby (EURO 1961) it featured some of our first cohort of 52 students, and the memories shared were a fascinating insight into Sussex's early days.
Students and faculty were considered partners in their learning, which was different to the 'them and us' attitude at other universities of the time."

ADRIAN MUGRIDGE


(ENGAM 1961)
Among the faces on screen was Sussex's first Students' Union President Adrian Mugridge (ENGAM 1961). "Students and faculty were considered partners in their learning, which was different to the 'them and us' attitude at other universities of the time," reflects Adrian. His words echo across the decades to our current students, who participate as partners in the development of their learning and in decisions that shape the University.
Some things have changed since these inaugural students came through Falmer – we no longer have cigarette-smoke filled lecture theatres or academics who pause seminars to share a sherry with students. But there is a lot that has stayed the same.
Next, we take a closer look at some of the foundations of the Sussex experience and look ahead to a year of celebrations.
They love this University
Sussex was the UK's first new university established after World War II. With the freedom to offer a new type of learning, it was an education based on intellectual freedom in a progressive learning environment and pioneered the notion of interdisciplinarity. We are proud to stay true to these founding principles.
As part of our 60th year, we commissioned a celebratory film featuring staff, students and alumni discussing their experiences at Sussex. Some of those who share their thoughts include Mo Kanjilal (ENGLISH 1993) who says, "Students are really encouraged to think differently, to question things – to try new approaches." Harsha Harjani (International Relations 2000) adds, "I never felt I had to think or act in a certain way, to conform."
For Provost Rachel Mills, it's the emotive connection that people have that resonates. "Everyone I've met is absolutely passionate about Sussex. They love this University. And that passion, I think, comes from the founding values."
As we celebrate our 60th Anniversary, we'd love to hear your Sussex stories and we invite you to submit your memories via our 60 Years of Sussex webpage
A philanthropic legacy
Philanthropy played a central role in the establishment of our university. In 1957, Helena Normanton QC left the capital of her estate to help found a university in Sussex. That gift helped lay the foundations of the University we cherish today.

Since it opened in 1961, Sussex has blended disparate disciplines to unlock research breakthroughs, and encouraged students from all backgrounds to graduate with both a world-class degree and a social conscience. Throughout our history, philanthropy has provided vital support to facilitate leading research that addresses some of the world's major challenges and provide opportunities for students to fulfil their true potential.
Thanks to philanthropic support, we were the first UK university to offer Mandela Scholarships in 1973 to counter the injustice of apartheid and also the first university in England to host an annual Holocaust Memorial Day in 2001, to remember the victims of the Holocaust and other forms of genocide. More recently, our 2021 appeal to support newly arrived Afghan students saw an instant surge in donations from our compassionate alumni and friends, a testament to our commitment to social justice and a long-standing Sussex tradition of providing opportunities for all, regardless of background.
In this special anniversary year, we invite all members of our community to celebrate this legacy and pay it forward by making a gift at a level that you feel comfortable with.
Thanks to a generous bequest from a visionary alumna, we are able to provide 100% matched funding for new gifts of £1,000 or more across a range of projects.
Contact
If you'd like to make a gift to Sussex or have an informal conversation about the ways you can support the University, our research and our students, please contact Rob Yates, Head of Development, at Robert.Yates@sussex.ac.uk
International community
Today, connections that have been forged at Sussex span the globe. We are in contact with over 112,000 alumni across 177 countries. We strive to give our international students the best possible experience and have recently been ranked eighth in the world for student mobility and openness (World's Universities with Real Impact (WURI) 2021).
Our commitment to internationalisation is also reflected in our engagement with partners around the world. Over the past decades, we have worked with partners to establish an extensive global network that currently includes 329 academic partners in 59 countries.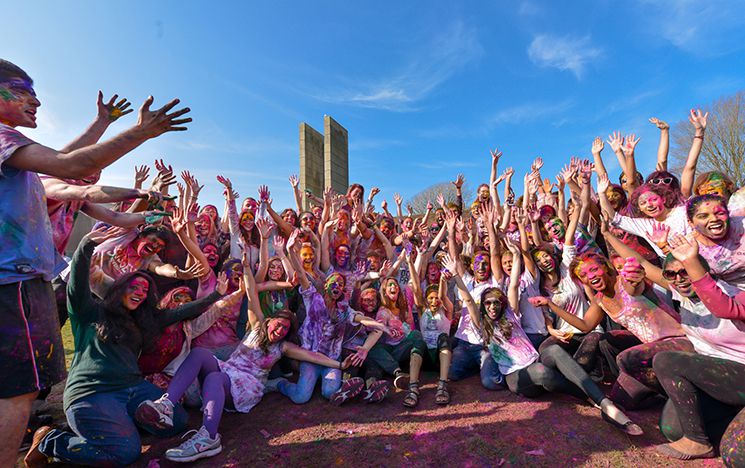 To celebrate our international community and outlook, every March the University and Students' Union run One World Week on campus. Events highlight the rich diversity of cultures that come together to make Sussex such a welcoming, inclusive place.
In March 2022, we're asking our alumni consuls to join the celebrations by hosting their own 60th anniversary events with our alumni all over the world. If you would like to get involved, please email alumni@sussex.ac.uk outlining your interest and ideas.
Celebrating research excellence and impact
We have chosen to celebrate our community's achievements and shine a spotlight on those who helped to make them possible with a range of live and streamed events and talks throughout our anniversary year. Our Better World: A Celebration of Sussex event officially launched the calendar of activities, focusing on the impact Sussex researchers and alumni are having in the challenge to create a more sustainable society. Our diamond anniversary celebrations will also include the unveiling of a blue plaque on our Chichester Lecture Theatre in June 2022 to commemorate one of our three Nobel Laureates, Professor Sir Harry Kroto.
Ground-breaking research has always been a pillar of Sussex life and currently our academics are investigating myriad topics, from artificial intelligence to hate crime, and from genome stability and cancer to how to tackle famine. Look out for our regular Ask the Experts events and podcasts, which feature our academic experts discussing topical subjects.
We hope you will join us in person or online at some of the many events planned across the year, culminating with a weekend reunion on campus for alumni of all subjects and decades in September 2022.
---
You might also be interested in: