Silent giants
Nestled between the Arts buildings, the sun-bleached benches overlooking the pond offer a popular spot for reflection and contemplation. Beside them, in stony silence, sit two rather unusual residents – and their provenance has only recently come to light.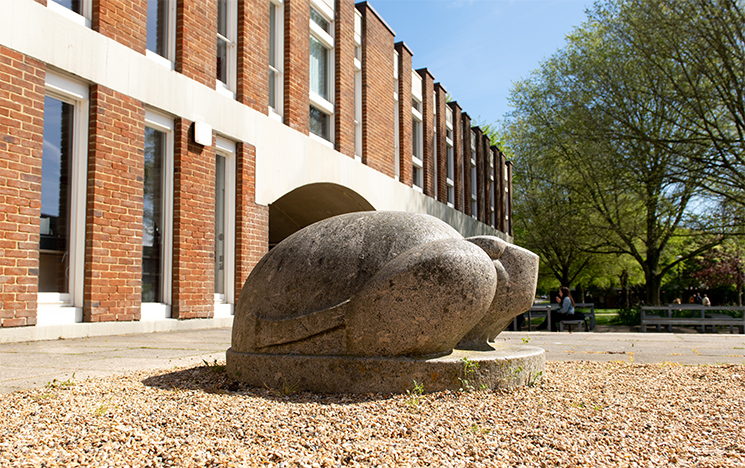 Giant tortoises
In 2005, a pair of giant tortoises carved from granite were brought to campus from a conference and activities centre once owned by the University, but at the time of their arrival their history was unknown.
It was only through a chance sighting of a letter to the Daily Telegraph from Nicholas Skeaping, in which he mentioned that tortoises made by his father John Skeaping RA were "now sadly lost somewhere in the Ashdown Forest", that Sussex staff were able to identify the pieces and contact him.
Last autumn, Nicholas was, for the first time, united with the works carved in 1938 by his father and he was able to shed light on how these beautiful giants were created.
"They are everything I expected them to be," says Nicholas. "I'd been looking for them since the 1990s, but details had been lost and dates were incorrect, and I feared they had become landfill."
John Skeaping (1901-1980) was a prize-winning sculptor and a contemporary of Barbara Hepworth (his first wife) and Henry Moore, another sculptor associated with Sussex and whose iconic 'Large Torso: Arch' was situated on campus in the 60s.
John was originally commissioned to make the two-and-a-half tonne tortoises for a children's adventure camp, known as the Isle of Thorns, on the edge of the Ashdown Forest near the Kent/Sussex border.
The camp, designed by architect Louis Osman, included a large paddling pool. The tortoises were located next to the pool, with the intention that children should be able to climb and play on them.
---
I had satisfied myself that I could carve granite, something no other living sculptor could do.

John Skeaping



---
The University acquired the sculptures after buying the freehold of the property, by then a training course and conference centre, in 1992.
Although the property was sold in 2002, the tortoises were not part of the sale. Instead they were brought to campus as a memento of the University's connection with the Isle of Thorns and, in recognition that, whatever their provenance, they should be preserved.
The tortoises, as Nicholas has discovered, were carved from stone from Blackingstone Granite Quarry in Moretonhampstead, Devon. "My father remembered the works he carved in granite over and above those in other stones because of the sheer hard work that went into creating them in an age before modern power tools," he explains.
John Skeaping wrote about the tortoises in his 1977 autobiography Drawn from Life. He had bought two pet tortoises to study their form and listed the equipment he would need to work with granite as "two three-pound steel hammers, a dozen steel punches and a pair of granite axes, one coarse, one fine".
He wrote: "Eventually I got the tortoises finished. I was justly proud of the accomplishment. Although they would never be on public display, I had satisfied myself that I could carve granite, something no other living sculptor could do."
Nicholas, who lives in Devon, has spent nearly 30 years tracking down various pieces of his father's body of work and encouraging a celebration of it. He says: "My father was commissioned to carve works that he actively encouraged children to climb on." And although they're no longer serving that purpose, he adds, "I'm sure my father would be very pleased to see them in a place full of young people, having been a champion of youth all his life."
John Skeaping RA
John Skeaping joined The Royal Academy School for Sculpture in 1919, where he won the 1920 Gold Medal and the Travelling Scholarship. This he took in Italy, returning to exhibit at the Royal Academy in 1922. He won the Prix de Rome in 1924 and, shortly after, married Barbara Hepworth in Florence.

Although John and Barbara exhibited together, their marriage was over by 1931. John then married Nicholas's mother, a dancer called Morwenna. Nicholas was born in 1947, while his father continued to work, travel and teach at the Royal College of Art.
---
Can you help solve another mystery?
Many of us are familiar with the Sussex sign. For years it has welcomed students, visitors and returning alumni entering campus. But who made it? When did it first arrive on campus? If anyone can help us to shed more light on the story behind the sign, do get in touch at alumni@sussex.ac.uk.
---
You might also be interested in: