Dig, sow, grow
Revolving around the motto 'Reduce, Reuse, Recycle', the Sussex Roots society is a model of sustainability. Current student Esme Williams (Media and Communications 2017) talks about the society's ethos and the benefits gained from working outdoors.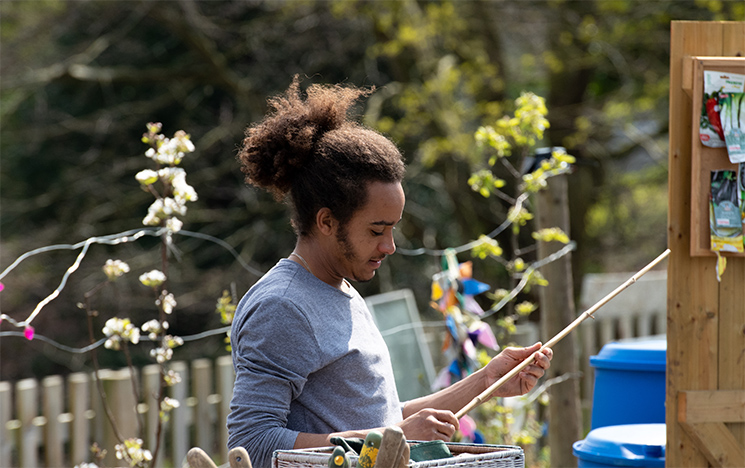 Sussex Roots
The University of Sussex was originally designed so that, wherever you look, there is greenery. It is, therefore, unsurprising that sustainability sits at the very heart of the establishment. A number of sustainability-orientated societies exist at Sussex, ranging from Scoop, which sells fresh produce on campus; Sussex in Transition, a food waste café; and the Bike Shack, which fixes and rents out bikes. They all aim to minimise waste and reuse as much as possible.
Sussex Roots first began with an allotment situated behind the Brighthelm accommodation. With no running water, students would have to carry barrels of water in the summer up the hill to the plot. However, in February 2017, it was relocated to a fenced plot of land just behind the Park Village accommodation. Now, just a couple of years on, and with the expert leadership of Jaci Driscoll, one of the groundskeepers at Sussex, it is teeming with life.
The allotment has come a long way in a short space of time. It now comprises around 10 raised beds, a polytunnel provided by Sussex Estates and Facilities to nurture baby plants, wild flower banks, a beautiful shed and even a dug-in brick fire pit with mix-match seating. Fresh vegetables and fruit are often up for the taking at the plot during harvest season, ranging from watermelons and squashes to tomatoes and cress.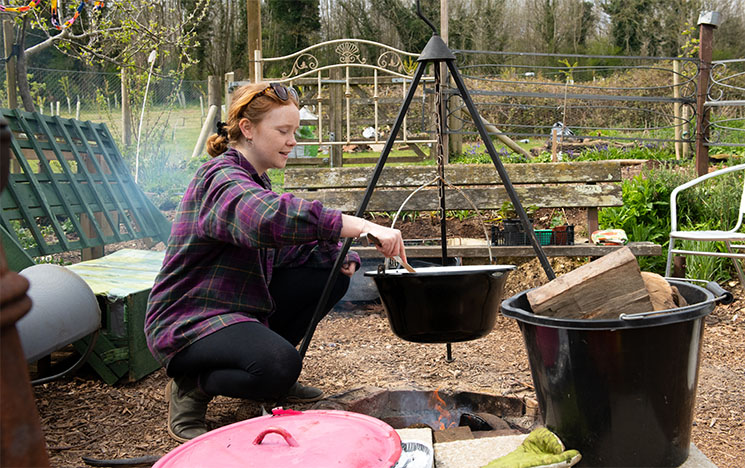 The society revolves around the sustainable motto of 'Reduce, Reuse, Recycle'. It has its own homemade compost bins, as well as leaf mulch collection points, both of which provide enough soil to go around all year, meaning the society never has to buy bags of soil. Eat Central's coffee waste is reused, mixed in with soil to put a variety of nutrients back into the ground, and the Tuesday Market's old vegetable waste is collected and added to the compost bins.
Since relocating to the campus's West Slope, Roots has done well to focus on building its physical infrastructure. However, with another possible relocation due to the West Slope development, more man power will definitely be needed to help make the move as successful as possible.
---
It's amazing how much better you feel about yourself after a little bit of gardening.

"
---
The brains behind Roots Jaci Driscoll is teaching and nurturing students' knowledge of gardening whilst refraining from pressuring anyone into constantly helping out. Other regulars include recent Sussex graduate Leilah Clarke (Product Design 2015), who frequents the plot wearing a fetching apron that reads 'Head Gardener', and fellow graduate and ex-committee member Lionel De Bayser (Philosophy 2015), who has taught all sorts of skills to other society members, including how to handle tools properly; invaluable lessons in the world of gardening.
One member of the committee, third year Zoology student Connor Sullivan, made an insect hotel using old bits of wood and material which would have otherwise gone to waste. There is even an old toilet and pair of boots that have been used to pot flowers – nothing goes to waste, and members are always up for claiming rubbish and turning it into something beautiful.
The society never spends money on seeds but instead saves them from existing plants at the end of every harvest season. These are then traded for other seeds at Brighton's Seedy Sunday event. This year, the society managed to accrue over 50 varieties of plants. Just before Christmas, the society also created various crafts, which were then sold on campus, raising around £50. As you can imagine, such a sum goes a long way at Roots.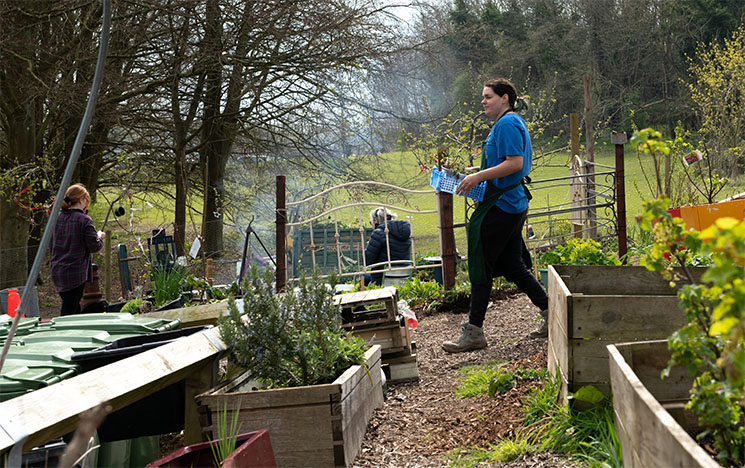 Sussex Roots recently received a generous grant from the Sussex Fund, kindly supported by alumni donations. This helped the society to purchase a garden shed for the plot, meaning more dry, sheltered storage space for the equipment that was, up until then, cramping up the polytunnel.
Most encouraging of all, many students speak of the positive impact the plot has had on their wellbeing. One second year student comments: "It's amazing how much better you feel about yourself after a little bit of gardening. I just love what a bit of fresh air and work with friends can do."blurb
---
You might also be interested in: