A formula for life
As Sussex strives to become one of the most sustainable universities in the world, our international research is providing innovative communication solutions for farmers in conflict zones and mathematical modelling to boost sustainable crop yields in Ukraine.

The findings from the latest UN reports on climate change have been alarming, but sadly not surprising. The science has been clear for many years, but our collective response has not been strong enough. Now, Sussex aims to make both a step change in our own operations and a global impact by connecting the interlinked issues at the heart of climate change.
"For at least three decades the main science has been clear on climate change, but for three decades our response has been too weak," says Professor Joseph Alcamo, Director of the Sussex Sustainability Research Programme (SSRP). "A stronger response will have to come from all parts of society, and sooner or later the fight against climate change will have to be linked up with our other big fights against poverty, hunger and inequality."
A stronger response
UN scientists have described the findings of recent climate change reports as a 'code red for humanity.' Sussex is responding and recently published a new and ambitious Sustainability Strategy, which focuses on a wide range of environmental, economic and social aspects of sustainability across the University.
The new strategy is a major statement about Sussex's future and draws a line in the sand regarding our plans to achieve a net zero carbon footprint of our operations by 2035. Sussex has good foundations to build on. In 2020, it was ranked 41st in the world in the Times Higher Education (THE) Impact Rankings, the only global performance tables that assess universities against the United Nations' Sustainable Development Goals (SDGs).
This put us in the top 5% of universities in the world and the top 10 UK universities for sustainability.
This ranking reflects our excellence in the field of sustainability research and our long-standing commitment to community outreach, environmental stewardship and innovation. Led by SSRP, our sustainability research addresses interactions among the SDGs and how trade-offs can be minimised or synergies maximised. Food is a good example of a topic that links so many other issues, from protecting biodiversity to ensuring sustainable livelihoods in conflict zones. Sussex is finding innovative ways to bring about positive change throughout the world.
Reinventing communications to promote sustainable agri-food practices in Syria.
Northwest Syria is an area that has been severely affected by conflict. One of the most critical impacts on agriculture was the collapse of support services for farmers, which, before 2011, were provided by the government. The transition to a free-market economy has added further challenges for local communities.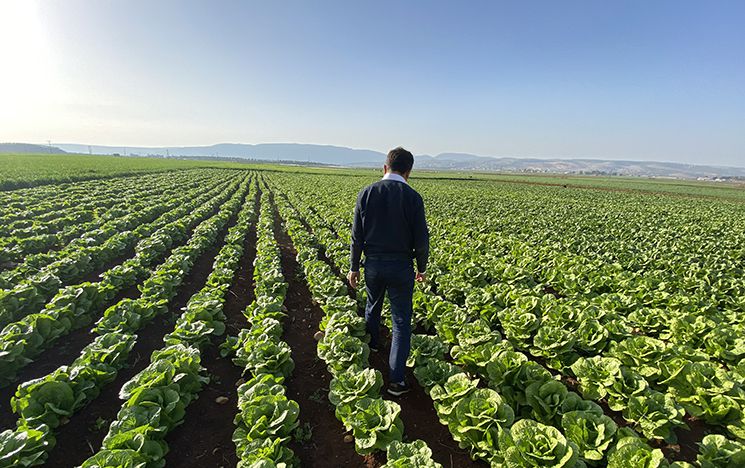 The Syrian Farmers Podcast is an SSRP-funded project created to provide new media and knowledge transfer from Syrian agricultural experts living in Turkey and Syria, to sustain farmers in northwest Syria.
"The main goal of the project is to promote sustainable agriculture in Syria through podcasting, knowledge exchange and mobilising researchers, practitioners and decision-makers in Syria and abroad," explains Dr Mirela Barbu, a Senior Lecturer in Supply Chain Management in the University of Sussex Business School and principal investigator on the project.
"We are working in partnership with the Council for At-Risk Academics (Cara) and the Academic Centre for Development and Peace Studies, which is linked to a Syrian Academic Expertise network."
"The project is quite a bold, ground-breaking experiment in conflict zone communications," adds Martin Spinelli, Professor in Media and Cultural Studies in the School of Media, Arts and Humanities, and podcast lead. "So often we find in conflict zones the traditional media – radio and TV stations – are the first things to be targeted by military attacks. However, the ubiquity of the smartphone, even in the developing world, and good mobile phone coverage means that podcasting is a real opportunity to reinvent communications in these kinds of situations."
Impact was generated through an 'Agricultural Voices Syria' survey which prompted the podcast. The survey also investigated how the podcast was received by asking the farmers what kinds of information would be most useful for their activity – and what the most effective methods are for delivering them. The team aims to create a template for future work that can be used not just by people interested in food security but also for humanitarian efforts in conflict and post-conflict zones around the world.
Can mathematical modelling help boost crop yields?
Mathematics also has a vital role to play in supporting food sustainability. Two Sussex mathematicians hope to tackle one of the most urgent challenges facing the world today – how to feed our growing global population.
Dr Konstantin Blyuss and Dr Yuliya Kyrychko from the School of Mathematics and Physical Sciences have been working alongside biologists at the National Academy of Sciences of Ukraine to design a chemical-free way to curtail the crop-killing activity of parasitic worms. The worms, called nematodes, are responsible for the loss of an estimated £95 billion of crops every year. Their work has helped develop natural biostimulants (a chemical-free and organic-friendly alternative to pesticides) and increase crop yields by up to 60%. The mathematical modelling explains how RNA interference works in plants and shows the most effective way to apply biostimulants to keep crops safe from nematodes.
The models we developed have translated into something that will positively contribute towards addressing a major global challenge."

Dr Yuliya Kyrychko


Reader in Mathematics
The insights from the models have been used by Ukrainian biotech companies to develop natural and organic biostimulants – some of which have been certified for organic farming – and are now used by some of the largest organic farming companies in Ukraine.
"As mathematicians, there can be a disconnect between what we calculate and what happens in practice," says Dr Kyrychko. "The fact that our modelling has survived the test of reality is hugely gratifying. We can see that the models we developed were not just equations, they've been translated into something that will positively contribute towards addressing a major global challenge."
Everything we do
Closer to home, the new Sustainability Strategy will address issues on campus around biodiversity and sustainable food, waste and water consumption and recycling.
This is just the start as Sussex aims to be one of the most sustainable universities in the world. "Universities exist to answer the big questions – and there is no bigger question than how we build a sustainable planet," says former Vice-Chancellor Professor Adam Tickell. "This is the greatest single challenge facing humankind and this strategy puts sustainability right at the heart of everything we do."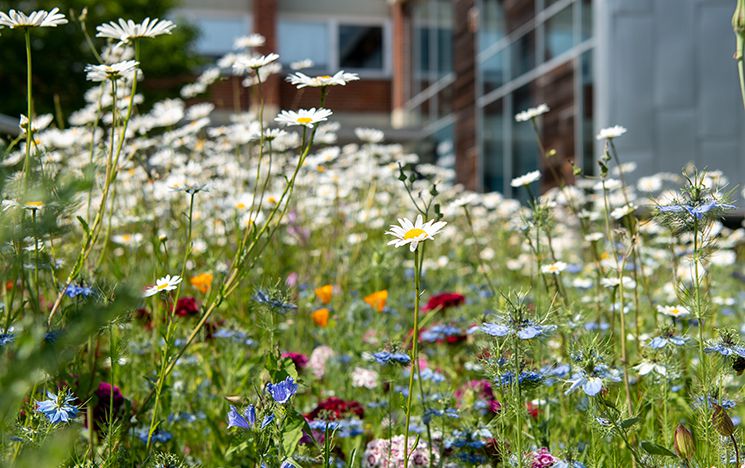 Sussex Sustainability strategy
The new Sustainability Strategy will address issues on campus around biodiversity and sustainable food, waste, water consumption and recycling.
We aim to:
2025

Recycle 50% of waste and reduce the waste produced
per student by 10% by 2025

2035

Reach net zero by 2035 – including both direct and indirect carbon emissions

50%

Create the UK's most
biodiverse campus setting
aside up to 50% for nature

+

Embed sustainability into all aspects of student learning
and experience
To find out more, including information on the four themes and 16 key aims at the heart of the new Sustainability Strategy, please visit our Sustainable Sussex webpage
You might also be interested in: