News
Find out about the latest sustainability news at the University of Sussex.
£2 Sussex Special Deals Launch in Eat Central
By: James Robinson
Last updated: Friday, 11 November 2022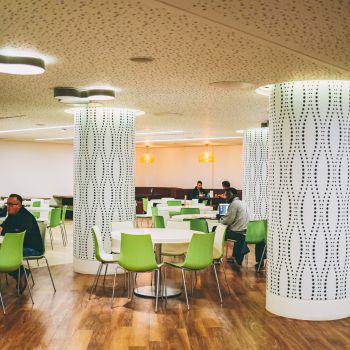 As food prices continue to soar and the cost-of-living increases, SussexFood has been working hard with the University to figure out what we can do on campus to help support our students and staff. This Wednesday 9th November we launched our Sussex Special meal deals. The initiative hopes to help make tasty hot lunches and dinners affordable and accessible to everyone on campus.
Two main meals a day will be reduced to the price of just £2 in Eat Central. These are available for all Sussex University students and staff from 12pm-6pm. All you need to do to claim the reduced price is show your ID at the till.
Things to know:
The two dishes on offer will rotate daily to keep the meals varied and interesting throughout the week.
The deals on offer will always be substantial enough to be counted as a full meal.
All meals will be vegetarian or vegan in order to remain inclusive and sustainable.
The offers will be highlighted using posters on the counters, so please look out for which dishes are discounted each day.
The deals are available in Eat Central, located on the ground floor of Bramber House only.
In addition to the £2 meals, SussexFood will continue to offer their various meals for under a fiver including the £3.75 or £4.90 hot breakfasts, Soup and a roll for £2.40, Salad boxes for £4.50, and main, drink and side deals starting from £7.

We are also part of the Too Good to Go scheme where you can pick up a magic bag daily from Tortilla, ACCA, Dhaba, Sussex Innovation Centre and Eat Central. Ordered through the Too Good to Go app, you can pay and reserve a magic bag from as little as £2. The contents are made up from the food cooked that day and can have a retail value up to £10.