News
See our news stories for culture, equality and inclusion at Sussex.
Leading the way on ethical procurement
By: Ellie Evans
Last updated: Wednesday, 13 September 2023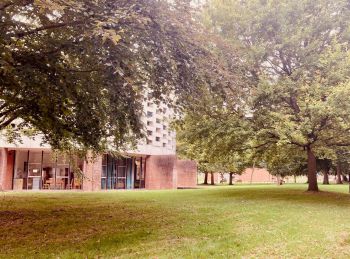 As the new academic year approaches, a key piece of work gets underway; one which will affect how we all work, study and live on campus for several years to come. This is a project that will help us find a partner to deliver our wide-ranging facilities management (FM) services – everything ranging from waste management, to ground maintenance, to cleaning, to security and beyond. At the heart of how we conduct this exercise is our values-based, ethical procurement process.
In this article, we explore what is meant by 'ethical procurement', and how it powers the decisions that we make…
What is ethical procurement?
Ethical procurement is the approach an organisation takes in all aspects of its supply chain and supplier management activities.
It has three key areas of focus, which are:
Considering what goods, services or works are purchased to support our ethical and sustainable aspirations
Ensuring that these are purchased in a manner which protects the integrity of the supply chain, working with partners that share our values and aspirations, whilst also considering the impact our supply chain has both locally and globally, from an economic and environmental perspective
Guiding the way the University engages with suppliers, ensuring that we always operate in the spirit of fairness, openness and transparency in our supplier selection activities.
Using these principles, organisations can proactively eliminate unethical practices throughout the supply chain. Here at Sussex, our sector-leading approach to procurement means ethics are at the heart of the process.
Our ambition is to develop and cement our role as a leader in ethical procurement: happily, benchmarking activity earlier this year suggested that the University is leading the way in this area within the HE sector. Our sustainable procurement framework embeds our values into contracts for goods and services, with principles encompassing:
Net zero target and action plan
Recycling targets
Responsible consumption and production
Equality, diversity and inclusion (EDI) training for staff and supply chain staff
Initiatives to reduce inequality in the workplace
Real living wage
Engaging small- and medium-sized enterprises (SMEs) and voluntary, community and social enterprises (VCSEs) in the supply chain.
Chris Harrison, Deputy Director of Estates and Facilities who leads on sustainability, explains more: "To illustrate why this is so important, over 60% of our current carbon emissions come from our supply chain. That means making our procurement more sustainable is the single biggest step we can take towards achieving our organisational target of net zero carbon emissions by 2035.
"We can only achieve this by prioritising collaboration with suppliers who share our values of working towards an ambitious yet well planned and achievable net zero target."
How does it work in practice?
"Operationally, our procurement and purchasing policy is structured to support ethical procurement, utilising systems such as our supplier management and contract management tools which screen and monitor a variety of ethical factors," says Ian McKee, Assistant Director of Finance – Procurement (more details of this can be found on our procurement webpages).
When conducting strategic procurement activity, the University goes further still, embedding its values as minimum standards that interested suppliers must align to in order to be eligible partners for the University.
"For example, when seeking a new partner for catering, we set stringent standards from the outset. In order for us to consider any bidder to be an Employer of Choice, they had to not only demonstrate their commitment to applying the Real Living Wage, but satisfy our expectation that they met our anticipated standard of basic terms and conditions to their employees, as well as demonstrating existing EDI and net zero strategies.
"In the second stage, there were more in-depth questions around terms and conditions, EDI, and sustainability which formed the 'threshold stage' where only the top scoring bidders would pass through to the next stage for full technical and commercial evaluation.
"By making our priorities in these areas very robust from the outset, we were then able to align these more closely with the terms and conditions of University of Sussex employees while remaining consistent with the catering industry. As a result, our on-campus catering colleagues now benefit from the same annual leave allowance and pension contributions as those directly employed by the University."
When procuring the services of third-party suppliers, we are bound by the Public Contract Regulations 2015 which bring with them obligations around process and publicity (supporting the principles of fairness and transparency mentioned previously); all public institutions, including universities, are bound by these regulations. An outcome of the regulations is that no organisation can be prevented from submitting a tender proposal unless they fail specific eligibility criteria (further details can be found via the link above).
What are the benefits?
For David Ruebain, Pro Vice Chancellor of Culture, Equality and Inclusion, the University of Sussex's commitment to becoming ever more sustainable and to being an ethical leader within the higher education sector and beyond is a source of pride. "By considering equality, diversity and inclusion, environmental sustainability and addressing the cost-of-living crisis in our strategic procurement activity, we can ensure that it is embedded into and drives how we work as an institution," he adds.
"We know that this is important to our staff and students: in the survey carried out at the end of last year, nearly 70% of respondents said it was very important or important that catering partners share the vision to become one of the most sustainable and inclusive universities in the world. And in one of the focus groups on facilities management held in April, we heard that "as public sector, we are held to higher standards so I would uphold those values".
"Environmental sustainability, inclusion and seeking to address economic stress are fundamental to our values. How we work together with our suppliers and partners plays a huge role in that."
Find out more
All this activity is underpinned by our Sustainable Supply Chain activities which embed our values into contracts for goods, services and works, and aligns with the UN sustainable development goals (SDGs).