News
New Student Centre inspires Product Design students
Posted on behalf of: Product Design
Last updated: Thursday, 21 January 2021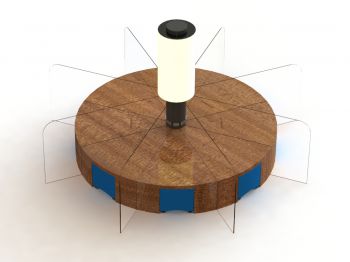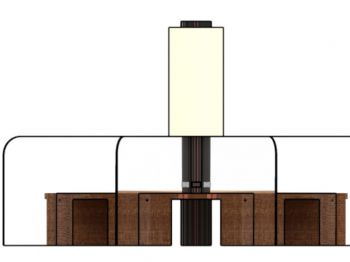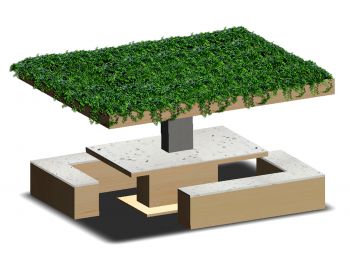 A team of three Product Design students at the University of Sussex have been inspired by the new Student Centre on campus to design a bespoke piece of multifunctional furniture that could be used either inside or outside the building.
Second-year undergraduates Chloe Fish, Pablo Samoilys and Henry Wenham took on the challenge as part of their 'Design Techniques in Practice' module.
They worked for a whole term on their project, before presenting their design this week to a mock client panel, made up of three senior staff:
Jane Harvell, Director of Library Services and University Librarian;
Robert Hutton, Director of Estates, Facilities and Commercial Services;
and Graeme Pedlingham, Deputy Pro-Vice-Chancellor for the Student Experience.
The panel members assessed how well each of the eight student groups had met the client brief, which included accessibility and sustainability.
Chloe, Pablo and Henry impressed the panel with their design for individual study, collaborative group work and socializing.
The trio's winning creation, which they coined the 'Carodesk', provides each user with individual workspace as well as legroom to accommodate a seat or wheelchair.
It also features embedded technology such as wireless charging, plug sockets and USB ports. The electrochromic 'smart glass' screens between each user can be clear (for group work) or opaque (for individual study). And there's more technological wizardry in the cylindrical display screen: real-time information could be sent directly to individual mobile devices, for access on the go.
Chloe, Pablo and Henry said: "We're thrilled to have won the competition, and we're excited to see if Carodesk can be used on campus in the future!"
Their classmates Carla Spampinato and Eleni Zachariou received a special mention for their piece of outdoor furniture: a simple table and bench structure that guarantees space for wheelchair users and guide dogs, provides a green canopy for rain protection, and incorporates a choice of sustain­able materials including recycled plastics, recycled wood and green concrete.
Carla and Elena said: "Working on this project has been very exciting, especially because it involved making something for our university, all of its students and staff."
Jane Harvell, who chaired the panel, described the experience as "an absolute pleasure". She added: "All the designs were brilliant: such a variety of approaches, and all so thought provoking. For me the two winning concepts perfectly reflect the history of the campus and the Spence design in their approach to innovation and aesthetic flair."
The Student Centre, which is due to open in the academic year 2021–22, will be a focal point for student life on campus and is designed to be flexible so that it can be adapted for many different uses across the academic year.