Keeping safe off-campus
Phone numbers you'll want to save now!
Emergency off campus: 999
Emergency on Campus: 01273 873333
Security escort to and from Falmer Station: 01273 877777
No money for Taxi? Take Care Taxi scheme: 01273 204060
Take Care Taxi
This new service, run by the Students' Union, means that you can get a taxi home at night when you've run out of money and pay the fare later. All you need is your Sussex student ID card and a phone.
Call Student Taxis on 01273 204060 or 01273 555555 and quote the Take Care scheme, giving your name. Arrange a safe meeting point with the driver
When the taxi arrives, hand your Sussex student ID card to the driver who will check the booking details and note down your full name and registration number
When you arrive home, you will be given a receipt detailing the fare incurred
Student Taxis will email the Reception at the Students' Union with the details of all students who have used the system so that we can contact you to confirm all is well
Visit the Falmer House Reception at the Students' Union and pay the price of the taxi fare
Free bus around campus
Catch the N25 (all nights) and N29 (Saturdays only) to take you around campus for free.
Safe Space
Safe Space is a drop-in open most Friday and Saturday nights run by staff and volunteers from YMCA DownsLink Group and Red Cross. they are happy to help anyone in distress through injury, intoxication, loss of friends/phone or merely not having the means to get home.
Volunteers can provide immediate emotional support, first aid, a hot drink, a means of charging your phone, help to find your friends or somewhere just to rest. They can also signpost you on to further help if needed.
Location:
St Paul's Church, West Street, Brighton.
YMCA's basic safety tips for out and about. Never leave your drink unattended!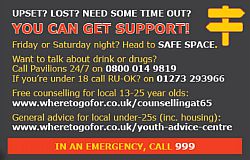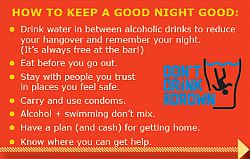 PICK UP A "KEEP ME SAFE" CARD at shops/bars/Student Life Centre on campus with phone numbers and details of Safe Space in case your phone runs out of charge.