Alcohol
Alcohol misuse
Alcohol: The legal drinking age in the UK is 18 years of age. Misusing alcohol, especially in public, can be a criminal offence, as is driving under the influence of alcohol, and can lead to arrest and prosecution. For more information see UK public order legislation
Attending any university teaching or course activity while under the influence of alcohol is not permitted and can lead directly to disciplinary or other institutional action. Alcohol can put your physical and mental health at risk, it can impair your judgment, and may lead to depression, and dependency. Further information on the risks associated with alcohol is available from the following web pages or the National Health Service (NHS)

You must ensure that your behaviour is appropriate while you are engaged in University activity and that you are not under the influence of alcohol.
You should be aware that reduced alertness and impaired judgment associated with alcohol consumption can compromise your health and safety of that of others.
If you believe that you have an alcohol related problem, you should seek help as soon as possible to avoid the problem becoming worse.
Limiting your alcohol intake and giving your body time to recover each week are key ways to avoid the ill effects and feelings of dependency that can be caused by excessive alcohol use.
Why it's a good idea to limit your alcohol intake
At the time - if you drink too much you are more likely to engage in risky behaviour including walking home alone, having unprotected sex, getting into fights or getting involved in an accident. As alcohol is a depressant it can lower your mood further if you are already feeling upset. Binging could lead to alcohol poisoning which can be very dangerous.
The next day – you may have a horrible hangover and have suffered from poor sleep. You might be unable to complete your work or attend lectures; you may have no memory of the night before or have feelings of regret about things you've done.
Long term – you will gain weight, and will be far more susceptible to various cancers, liver disease, infertility, heart disease and stroke. Heavy drinking can impact on your personal relationships and can affect your energy levels, mental agility and ability to concentrate, which will have a knock on affect on your studies.
Alcohol and Harm Reduction
Alcohol Harm Reduction strategies are designed to limit the amount of harm that people experience as a result of drinking alcohol.
Don't let the good times go bad - tips for safer drinking on a night out
Don't drink on an empty stomach - eat before (and/or during) drinking alcohol
Have a drink of water or soft drink to quench your thirst before you start drinking alcohol
Ask for spirits and mixers to be served in a tall glass - your drink will last longer without adding any extra alcohol
Alternate alcoholic drinks with non-alcoholic ones to make a good night last longer (it'll also be cheaper!)
Avoid buying drinks in rounds, or playing drinking games, so that you can drink at your own pace
Keep your drink safe - alcohol is the most commonly used date rape drug, so keep an eye on your drinks, don't leave them unattended, and don't accept any drinks if you didn't watch them being poured.

If you suddenly feel very drunk or out of control, ask a friend you trust to get you home and do the same for friends in the same situation

Check in with yourself - if you feel like you're reaching your limits then switch to soft drinks to avoid things going downhill

Click here for more videos with tips on how you can avoid some of the negative outcomes that can happen when drinking alcohol, and keep your night positive and fun
Check out the High-Way Code guide to safer alcohol use - High-Way Code Alcohol Harm Reduction [PDF 1.77MB]
Units of Alcohol
Recommended number of units
The UK government issues official guidelines for alcohol use; they say that for people of any gender to keep health risks from drinking alcohol to a low level we shouldn't regularly drink more than 14 units a week, and that this should ideally be spread out over three days or more.
Under 18 or pregnant: you are advised not to drink.
What is a unit?
One unit is 10 ml or 8mg of pure alcohol. It takes the average adult around an hour to process this so that there's none left in their bloodstream, although this varies from person to person, and from day to day.
A unit is equal to one 25ml single measure of whisky (Alcohol by volume 40%), or a third of a pint of beer (ABV 5-6%) or half a standard (175ml) glass of red wine (ABV 12%)
Work out your alcohol units for yourself with this handy sum: Strength (ABV – alcohol by volume) x Volume (ml) ÷ 1000 = No. of units. E.g. Pint of Stella: 4.8 x 568 ÷ 1000 = 2.7
You could also use this Alcohol unit calculator or pick up a free unit measurer/calculator to use at home. If you'd like a free unit measure glass, or a unit and calorie calculator, email healthandwellbeing@sussex.ac.uk. They're a quick and easy way to see how many units are in various drinks.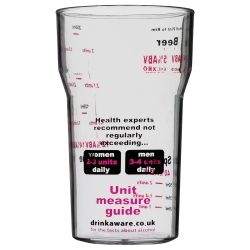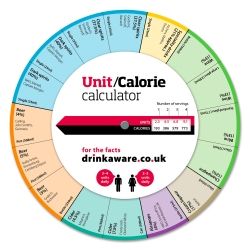 Number of units in common drinks
Drink
Units
Small glass red/white/rose wine
(125ml, ABV 12%)
1.5
Standard glass red/white/rose wine
(175ml, ABV 125%)
2.1
Large glass red/white/rose wine
(250ml ABV 12%)
3.0
Pint of lower-strength lager/beer/cider
(ABV 3.6%)
2.0
Pint of higher-strength lager/beer/cider
(ABV 5.2%)
3.0
Bottle of lager/beer/cider
(330ML, ABV 5%)
1.7
Can of lager/beer/cider
(440ml, ABV 4.5%)
2.0
Alcopop
(275ml, ABV 5.5%)
1.5

Single shot of spirits
(25ml, ABV 40%)

1.0
Self test for alcohol
If you are concerned that you are drinking too much, do this simple self-assessment
Are you worried about someone else?
Take a look at Drink Aware's web page, which gives advice on what to do if you're worried about a friend's drinking.
Getting help on Campus
If you're having problems cutting down by yourself, or are concerned about the effect that alcohol might be having on you there are people on campus who can help.
The counselling service offers a one-off consultation with a specialist drugs and alcohol counsellor. To book one of these sessions please contact Counselling via phone (01273 678156) or email (counsellingreception@sussex.ac.uk) and use the code DL21. A member of the reception team will then be in touch to offer you a telephone or Zoom appointment. The sessions are completely confidential and you will not need to provide any details other than your name, email and telephone number.
You can also speak to a student advisor from the Student Life Centre about any concerns that you have about your life as a student.
If you are registered at the campus Health Centre, each nurse has training in "alcohol brief intervention" so don't be afraid to say that you are concerned about your drinking and may need help. Similarly, your GP practice off campus will be able to help.
You can find self-help information on the University Counselling Service web pages, and there are numerous helpful leaflets on alcohol and cutting down at the Student Life Centre, the University Counselling Service.
Services in Brighton, Hove and Sussex.
Change Grow Live provide adult Drug & Alcohol Services for Brighton & Hove. Support is available to anyone concerned about their drug or alcohol use, or for the families & carers supporting those struggling with substance misuse.
You can complete a self-referral form through the CGL website
Brighton Oasis project deliver a wide range of trans-inclusive services to women of all ages with drug and alcohol problems within Brighton and East Sussex. The environment is safe, confidential and non-judgemental.
They also offer a service for sex workers via the SWOP team, and a Young Women's Therapy Service for women aged 18-25 years who have experienced violence, abuse, neglect or disadvantage in their early lives.
Useful websites