Associate Tutors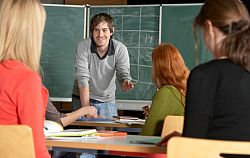 Associate Tutors play an invaluable role in the life of the university.
The use of Associate Tutors to complement the teaching delivered by permanent academic staff is widespread across the Higher Education sector. The invaluable contribution of Associate Tutors, and the many qualities they bring in terms of skills, knowledge and recent experience as a student, is well recognised at Sussex. Associate Tutors also serve a vital function in enabling departments to accommodate unpredictable and often short-term demands for teaching support (e.g. due to the temporary absence of a permanent member of academic staff).
The current contribution of Associate Tutors at Sussex is extensive but there is much variation across individual Schools and Departments: Associate tutors may be involved in seminar teaching, demonstrating within Science laboratories, holding tutorials, providing general academic support, or even delivering lectures in some cases.
Wherever possible, the University gives priority to its postgraduate students when assigning Associate Tutor work. Schools are responsible for ensuring that such appointments are made following an open process that complies with the University's Equality and Diversity policy.
In addition to postgraduate students, however, there will be occasions where it is desirable for the University to call upon other sources for Associate Tutors: e.g. where input from a current practitioner or someone with professional expertise is required. Hence those with a particular specialist knowledge not available amongst the University's current academic staff, language teachers and others all make a significant contribution as Associate Tutors to the University's teaching provision.
The University is committed to constantly reviewing and improving the working conditions of its Associate Tutors. Heads of School and administrative staff alike are concerned to make every effort to ensure that Associate Tutors are well supported, treated fairly and with respect.