Submitting through Mahara
Mahara is an electronic portfolio system used at the University of Sussex to allow a combination of several distinct but related pieces of work to be presented as a single assessment task.
Am I in the right place? How to identify Mahara assignments
For Mahara assignments, the Module Summary page on Sussex Direct will indicate that the assessment is by 'Mahara submission'. Please see our guidance for Submitting Turnitin assignments and Submitting Canvas assignments for guidance on other types of submissions.
A Mahara submission differs from the other types of e-submission at Sussex in that it does not appear in the "Assignments" section of a Canvas module. Instead, a Mahara portfolio is submitted from within Mahara itself. Marks and feedback are only available from Sussex Direct.
Accessing Mahara
Your tutor may provide a link to Mahara in your Canvas module; alternatively, you can log into Mahara at https://mahara.sussex.ac.uk. Follow the link for University of Sussex students and staff and, if you see the standard Sussex login page, use the same username and password as you do for Canvas.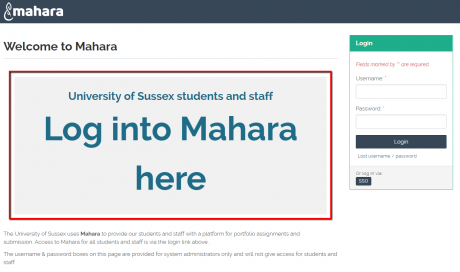 Preparing your portfolio
Your tutor will provide information about what should be included in your Mahara portfolio. You will find guidance on how to use Mahara to build a portfolio and add different types of content once you have logged in.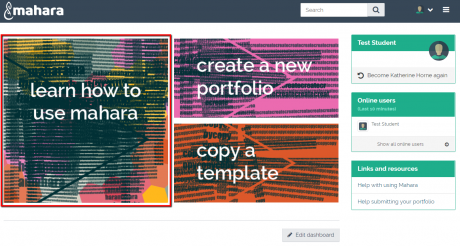 Submitting your portfolio
Information about your due date and any permissible lateness period is available from the Module Summary page on Sussex Direct. Mahara will allow you to submit your portfolio at any time, so make sure you check when your portfolio is due. Submitting after the due date will usually incur a penalty and submitting after the permissible lateness period has ended will mean that your work will not be marked and will count as a non-submission.
When you are ready to make your submission, open the portfolio you wish to submit. Towards the bottom of the portfolio page you will see a drop-down list and a submit button. Select the name of your module and click submit. You will be prompted to confirm the submission; when you click "yes" your submission will be completed.
Resubmitting your portfolio
If you have made a mistake in your portfolio, you can submit an alternative portfolio to the same module. You will need to contact your tutor to let them know that you have done this, and should indicate the time of your resubmission to help them identify the correct portfolio for marking. Replacement submissions will only be considered if made before the due date. Your resubmission will not be marked if made during the late period, even if your have a penalty waiver.