Submitting Canvas assignments
Canvas includes a variety of tools for managing the submission of work and provision of marks and feedback for a range of different assessments types.
All assessments which have been set up for electronic submission will have a location point under the 'Assignments' tab of the associated module site in Canvas. You will be able to use this point to submit work whilst it is open for submission and review feedback once it has been released by your tutor.
How to find your assessments in Canvas
Login to Canvas and select the module you wish to submit your work to from either the 'Dashboard' or 'Modules' page.
Select the 'Assignments' tab from the module navigation menu.
Each assignment includes a Due date and time (deadline for submission) and Available until date and time (deadline for late submissions). Select the assignment you wish to submit to for further information on the assessment and instructions for the submission.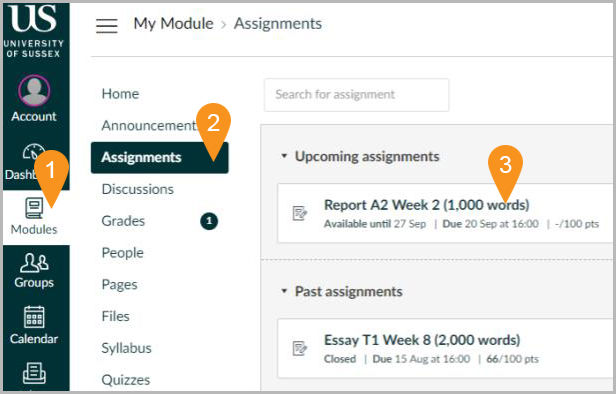 Submitting your work
Assessments using Canvas Online as the submission point allow you to submit a number of files including a number of different file types, depending on the requirements of the assignment. Please refer to specific instructions from the assignment page and any additional information from your tutor or module convenor for further details on what you should submit.
Please see the Guide to Canvas: submitting your work to Canvas Online which includes step-by-step instructions on submitting your work and resubmitting work.
Am I in the right place? How to identify Canvas assignments
For Canvas assignments, the 'assignment' page (see the screenshot below) will indicate 'This assignment is submitted through Canvas' at the beginning of the instructions. Please see our guidance for Submitting Turnitin assignments and Submitting Mahara assignments for guidance on other types of submissions.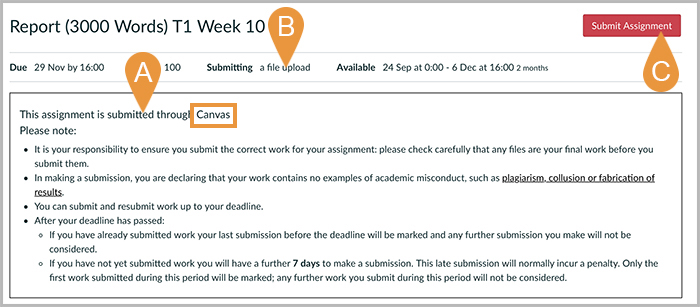 Assignment instructions: this will confirm the e-submission route and include details of your responsibilities, rules for resubmission. Tutors may include additional information about the assessment here.
Submitting: this will indicate what you can submit, and may include one or more of the following:
File upload: this may include one or more file(s) of any type. Some assignments may state specific types of file that you can submit.
Media recording: you can upload an audio or video recording in one of the following formats or record audio/video using your microphone/webcam.
Text entry: text entered directly into the submission page.
Website URL: the address of a website or online content.
Submit Assignment button: this button will begin the submission process and allow you to enter your work for the assignment. On completion of submission; the assignments page will confirm your submission and enable you to re-submit or review your work.

Submitting multiple files
For some Canvas Online assignments you may be asked to submit more than one file. To do this follow the steps above and then use the '+ Add another file' button to upload additional files, this will open your documents where you can select your chosen file. Repeat this step for each file that you want to upload then click 'Submit assignment'.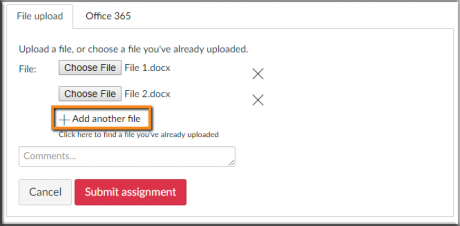 Resubmitting your work
Please note that Canvas will allow you to continuously resubmit your work up to the Available until time and date. However, the standard assessment policy and regulations still apply even though you will not be prevented from making a resubmission systematically.
Before the Due date: You can submit and resubmit work up to your deadline (Due time and date).
After the Due date: if you have already submitted work your last submission before the deadline will be marked and any further submission you make will not be considered.
After the Until date: if you have not yet submitted work you will have until the Available until time and date to make a submission. This late submission will normally incur a penalty. Only the first work submitted during this period will be marked; any further work you submit during this period will not be considered.