Double and blind marking with Turnitin Feedback Studio
Ideas and approaches to double and blind marking processes using Turnitin Feedback Studio
The Turnitin software is designed to facilitate a single set of marks and feedback per paper and doesn't currently include any features designed specifically to support workflows for double or blind marking. Please note the following points when considering a workflow:
Turnitin currently has no built in functionality designed specifically to facilitate double or blind marking.

It's not possible to provide multiple copies of submissions for marking within the Turnitin software.
Whilst anyone with a tutor or assessment convenor module role can access and edit all marks and feedback for submissions in Turnitin. Markers are not identified or distinguished by the software.
Research into current practices shows that other universities currently have a number of workarounds or do not practice double/blind marking in Turnitin.
We have provided some ideas for possible workflows on this page, however, please contact your school learning technologist if you require additional help, support or advice for developing and implementing a marking process.
Using an external document to record two sets of marks feedback.
Some schools have opted to develop their own process for double marking by exporting a spreadsheet of marks from the Sussex Direct assessment convening page once the first phase of marking has been completed. The spreadsheet is then passed onto the second marker who reviews the marks and feedback in Turnitin and records their own comments and marks into an additional column on the spreadsheet. Please note that the 2nd marker would require a tutor role on the module list in Sussex Direct in order for them to access the scripts.
This process could be adapted for blind marking by providing both markers with a feedback document or spreadsheet to record marks and feedback. Once marks and feedback have been consolidated, they can be entered into the Turnitin software and released to the student to provide a single set of marks and feedback.
Double marking form and comments in Turnitin
We have developed a Grading Form and set of QuickMark comments for use in Turnitin and made them available to all user accounts. The "Double Marking Form" can be loaded using the Rubric and Grading Form manager facility, this provides a form with spaces for two separate marks and feedback comments to be entered.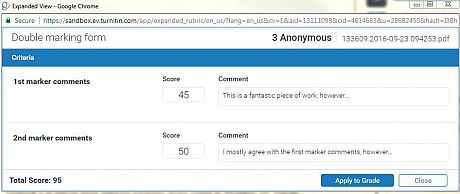 In addition to this, we have created a QuickMark set called "Roles" which can be used to add document annotations which identify the role of the 1st/2nd marker or assessment convenor.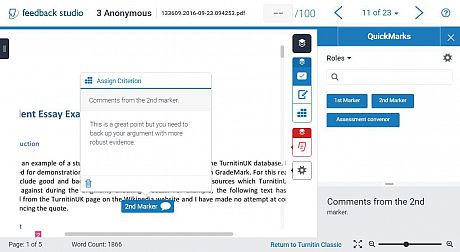 Download multiple copies of a submission for double blind marking
This workflow is particularly useful for double blind marking of longer essays. It is possible to download PDF copies of a submitted file from Turnitin by opening a submission in the document viewer and then selecting the print/download icon in the bottom left corner of the screen. The copies can then be sent to different markers who can review and feedback on the same submission independently.
Once marks and feedback have been consolidated by the markers, then a single copy of the finalised mark and feedback can be entered into Turnitin for release to the student.