Marking in Canvas (Canvas Online)
Canvas includes its own marking tool, Speedgrader, which provides a flexible range of submission and marking options. The Canvas Online submission route uses Speedgrader, and is the recommended option where the assignment requires submission of multiple files or of files that are not primarily text.
There are several routes to accessing your student submissions in Canvas. Which route is recommended is dependent on whether you are the only marker for your module (single marker) or if you are sharing marking with other tutors (delegated marking).
If you are the only marker
If you are one of several markers
For full guidance please see our Marking with Canvas SpeedGrader guidance
Speedgrader provides a variety of marking and feedback features, including:
adding a numeric grade;
a wide range of document annotation tools (including text comments, highlights, shapes and freehand drawing);
providing summary feedback as audio or video, using a webcam or microphone attached to your computer;
providing summary feedback as a text comment;
attaching a separate feedback file;
applying a standardised marking scheme using a rubric.
There a number of tools which can be used in Speedgrader to provide feedback on a students work and a box for entering a grade as outlined below.
Select another student's submissions (this will also categorise them by teaching groups if they have been set up)
Enter a numeric grade (0 - 100)
Enter text for a general feedback comment on the students work
Attach a file (e.g. a feedback form), upload audio or video (or create a recording)
Add document annotations - including text comments, freehand drawing, shapes, strike-throughs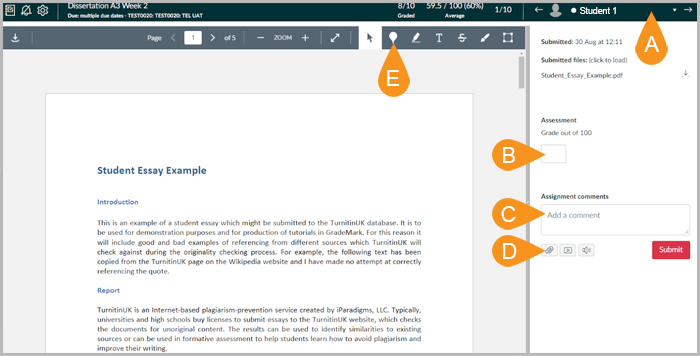 Student Resubmissions
Canvas will not prevent students from resubmitting work to a Canvas Online assessment after the deadline; they will be able to submit until the "Available until" date (which matches the end of the period of permissible lateness). University assessment regulations, however, state that students are not permitted to make a resubmission after the deadline, and only one submission is allowed during the period of permissible lateness if no previous submissions have been made. Markers should therefore only mark the last submission which the student made before the deadline, or the first submission after the deadline (if no submission was made before it).
If students have made re-submissions to the assignment you will be able to view the different drafts from the drop-down menu in the top right corner of Speedgrader. The title of the submission will include the date and time of each of the submissions.