Marking with Canvas Online (Speedgrader)
The Canvas Online submission route enables electronic submission and marking of work using any type of file. This route is recommended for non-text based assessments.

This page also contains important information on how to mark anonymously using SpeedGrader.
Warning! As students can resubmit work up until the deadline you should not begin marking work until after the due date and time as shown in Sussex Direct. You will need to bear in mind any extended deadlines for individual students.
How to find your assessments in Canvas
Note: you can access assignments from the 'To do' list on the right-hand side of your Dashboard. However, please note that by default this will display all submissions using the 'Speedgrader' software - the native Canvas tool for marks and feedback - even if the assessment has been set up to use Turnitin. It is advised that you access submissions via either the 'assignments' or 'grades' page in your modules.
Log in to Canvas and select the module from either the 'Dashboard' or 'Modules' page.
Select the 'Assignments' tab from the module navigation menu.
Select the assignment you wish to review the set of submissions and provide marks and feedback for.
Select the 'Speedgrader' link to open the marking software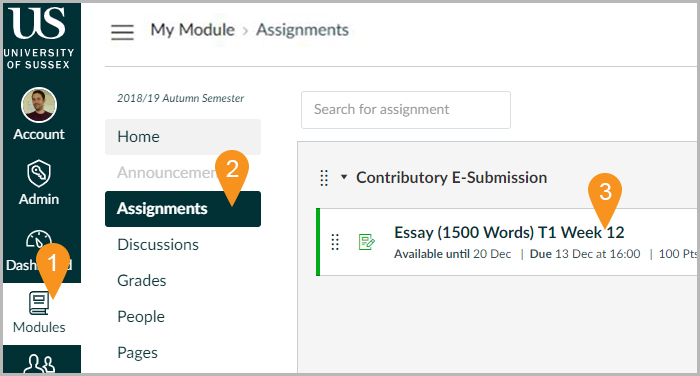 View all marks across module assessments and sort by groups
The 'Grades' link on the module navigation menu will provide staff with a table of candidate numbers and associated grades for all online assessments (both contributory and non-contributory) on the module. Staff can also use this page to filter candidates by marking and teaching groups and as an alternative point to access submissions for providing marks and feedback. Note that marking and teaching groups will only be available for modules which include a coursework assessment.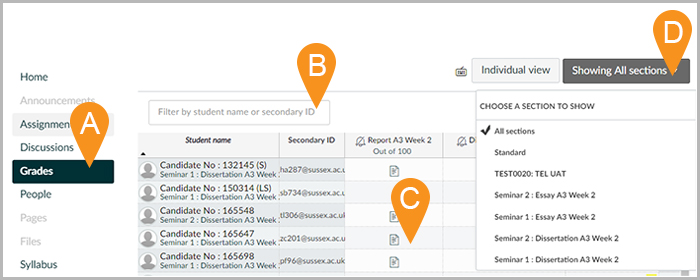 Grades: this will display a list of candidates and their marks for all assessments on a module.
Search: look up candidate numbers and records of specific students.
Table: access students work directly from the 'Grades' table as a starting point for viewing submissions, providing marks and feedback.
Sections: can be used to filter the table to display records from specific marking and teaching groups which have been set up.
Please note: You should not click on the candidate number displayed under the column 'Student name' in the Gradebook as this will display further student details, including the student's name, thereby compromising anonymity.
Important information: Hiding student names for anonymous marking
If your assessment is to be marked anonymously, it is your responsibility to ensure you support the integrity of anonymity by making this one time change in your settings. This is a profile setting and one you will not need to do again on other modules.
Before you start marking you must first hide student names in Speedgrader. To do this click the cog icon at the top right corner of Speedgrader and then click 'Options':

In the box that appears tick the option to 'Hide student names in the SpeedGrader' and then click 'Save settings':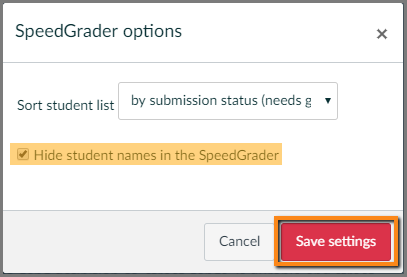 Entering marks and feedback with Speedgrader
Speedgrader is the name of the native tool in Canvas for providing marks and feedback for assessments. Depending on how the assessment has been set up, students will be required to submit either one or more files, a media recording, website address or text. Marking features within Speedgrader include a wide range of annotation tools (including text comments, highlights, shapes and freehand drawing), a general audio or video feedback from a webcam or microphone, a file attachment, a general text comment, marking rubrics and a grade.
There a number of tools which can be used in Speedgrader to provide feedback on a students work and a box for entering a grade as outlined below.
Select another student's submissions (this will also categorise them by teaching groups if they have been set up)
Enter a numeric grade (0 - 100)
Enter text for a general feedback comment on the students work
Attach a file (e.g. a feedback form), upload audio or video (or create a recording)
Add document annotations - including text comments, freehand drawing, shapes, strike-throughs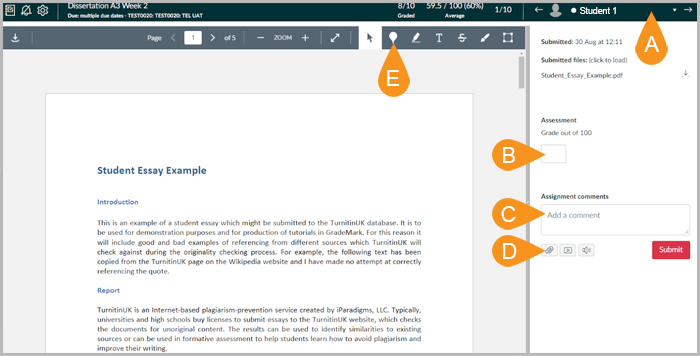 Submission drafts
Please note that Canvas will not prevent students from resubmitting work after the deadline, they will be able to submit to the system until the Available until date (end of the period of permissible lateness). However, this behaviour does not match university assessment regulations which state that students cannot make a resubmission after the deadline, and only one submission is allowed during the period of permissible lateness if no previous submissions have been made. Staff will be required to only mark the last submission which the student made before the deadline, or the first submission after the deadline (if no previous submission was made before the deadline).
If students have made re-submissions to the assignment then you will be able to view the different drafts from the drop-down menu in the top right corner of Speedgrader. The title of the submission will include the date and time of each of the submissions.