Visualisers and Document cameras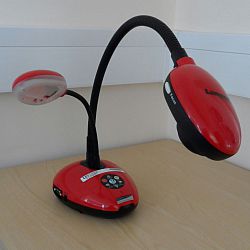 Where once there were overhead projectors (OHPs) now there are document cameras, also known as visualisers, digital presenters, or if they are the red ones by Lumens that look a bit like insects, 'Ladibugs'.
Document cameras can do much more than the old OHPs but without the need for special films and pens. Because the visualiser has a digital camera inside, it is capturing an image of whatever you focus it on. It then sends that digitally, via a computer, to be projected onto the screen. You can therefore save it if you want to, for uploading to Study Direct or to refer back to later in the session.
These devices are primarily intended for displaying documents and they allow tutors - and students - to be very flexible about what they show on the screen. You can grab a book off your shelf, open it at a useful diagram and place it under the visualiser to show everyone in the lecture theatre the graphic. If today's newspaper has an interesting article you can use the visualiser to share it with the class - or better yet, get students to bring in interesting articles to share.
With any paper and pen the visualiser lets your writing appear on the screen in even the biggest lecture theatre, so if you want to draw your own diagrams or illustrations on the spot you can.
Although the visualisers are intended for documents you need not stop at two-dimensional images. Colleagues in Engineering have found that the digital presenters are a great way of letting a large group see a small motor in action and there are sure to be applications across the disciplines. Any small object that you want to show to a large group is likely to be easier to see through a visualiser.
The room bookings facilities page shows which rooms have these devices (shown as 'doc cam' under the OHP column) and there will be information displayed in the room about how to use the equipment.
If you want to know more about how the different types of visualisers work, guides to the different models found around campus are below. You can also contact the Technology Enhanced Learning team to discuss using visualisers in your teaching.
Manuals, Guides and Video Tutorials