TurningPoint 'clickers'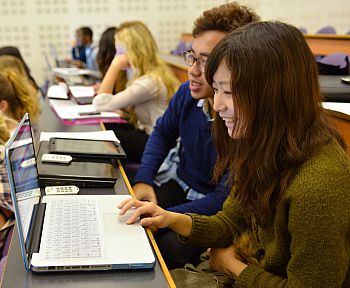 Although the University's preferred option for classroom response systems is Poll Everywhere, Information Technology Services (ITS) do have a small amount of Turning Point equipment available for staff to borrow. Like Poll Everywhere, TurningPoint allows you to create interactive response slides which can be integrated within PowerPoint presentations. You are able to pose multiple choice questions to students and receive their responses via the 'clicker' handsets, with a graphic displaying the results appearing on your slide. Clickers can create a more interactive experience of teaching and learning, helping students to become more engaged with classes and topics.
Important changes
The university has now upgraded from Turning Point 5 to Turning Point 8. Due to this update staff will now need to create a Turning Point account in order to use the software, follow this guide - How to create a Turning Point Account - for assistance. Staff who have previously been using the Turning Point 5 software will notice some differences in appearance however the functionality of the software will remain the same. All of the content that you have previously created will be automatically updated to work within the updated software when you open your documents for the first time in the new software. It would be a good idea to access your presentations prior to your first teaching sessions to allow this process to take place, this should only take a few seconds to complete. The Turning Point 8 software is already installed on all teaching computers and can be installed on all university-owned staff computers via the software centre. If you currently using Turning Point 5 on your staff computer you will now need to download Turning Point 8 from the software centre. When you first download the software or use it for the first time in a new teaching room you may be asked to select your region, make sure to change this from the default North America to Europe.
What can Turning Point do?

Pose multiple choice questions to your students.
Create team based quizzes to gamify your teaching.
Display live results to discuss during teaching sessions
Integrates with PowerPoint allowing your embed questions within existing presentations.
Benefits for learning

Provides students with anonymity when answering questions, reducing self-consciousness and encouraging engagement.
Encourages communication between students, prompts discussion and peer instruction.
Creates a dialogue between students and teaching staff allowing you to quickly gather feedback.
Allows you to identify gaps in students' knowledge and quickly address these.
Limitations

Limited to multiple choice questions only

Time needed to create questions.
You will have to book and collect clicker handsets from ITS when you want to use them.
Borrowing handsets

TurningPoint clickers can be borrowed from ITS, who have about 480 clickers available. Staff will need to book these in advance and can do so by emailing voting-clickers@sussex.ac.uk. Clickers can be collected on the day that you wish to use them and returned on the same day.

Training and support

The University's recommended student response system is Poll Everywhere, but if you still preferto use the TurningPoint clickers, please see the resouces below for trainng and guidance. Technology Enhanced Learning can also provide support and advice (contact tel@sussex.ac.uk). Any issues with the software or hardware should be reported to ITS via www.sussex.ac.uk/its/help.

Help and further resources