Poll Everywhere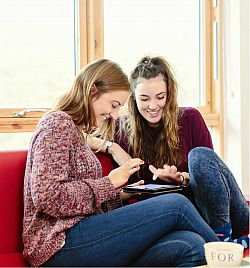 Poll Everywhere is a web-based tool which allows students to give instant answers or feedback on presented content via their mobile phones, laptops or tablet devices and is the university's recommended student response system. Poll Everywhere can be used to gather ideas, test knowledge or canvas the opinion of a group of students, with students responding via the mobile app, website, Twitter or text. It can be particularly useful in large group teaching situations and has a range of different question types that you can integrate into your teaching sessions including mutliple choice, open ended, word clouds and clickable images.
A Poll Everywhere Presenter add-in is also available for PowerPoint which allows you to embed your polls in your PowerPoint presentations and display live results slides. This add-in is available on all university teaching computers and can be downloaded onto university-owned staff computers from the software centre. Poll Everywhere also integrates with Google Slides and Keynote.
What can Poll Everywhere do?

Allows you to pose a range of different questions to students - multiple choice, open ended questions and clickable images, among others.
Create team based quizzes to gamify your teaching.
Display live results to discuss during teaching sessions.
Integrates with PowerPoint, Google Slides and Keynote allowing you to embed questions within existing presentations.
Able to use LaTeX when authoring questions.
Benefits for learning

Provides students with anonymity when answering questions, reducing self-consciousness and encouraging engagement.
Encourages communication between students, prompts discussion and peer instruction.
Creates a dialogue between students and teaching staff allowing you to quickly gather feedback.
Allows you to identify gaps in students' knowledge and quickly address these.
Limitations

Students need a mobile device or computer to respond (though the practice of students sharing devices and discussing answers has been shown to have significant learning benefits - see
research by Harvard University's Professor Eric Mazur summarised in this article
).

Time needed to create questions.
Students on pay-as-you-go contracts will be charged the standard network rate when responding via text.
Training and support

Technology Enhanced Learning run regular workshops on Poll Everywhere, visit our Workshops and courses page for more information. If you are unable to attend the dates provided and would like to recieve training on Poll Everywhere or would like to be added as a user to the University's licence, please contact tel@sussex.ac.uk.

Help and further resources