Mahara e-portfolios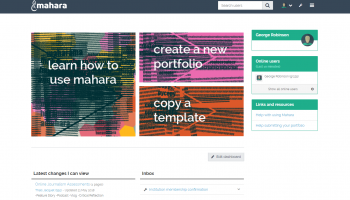 What is Mahara?
Mahara is a web application for building electronic portfolios (e-portfolios).
Designing a Mahara portfolio assessment
When designing a Mahara portfolio assessment it is important to consider the learning outcomes being assessed. For example, are you assessing just the content, or is the organisation and/or development of ideas over time part of the assessment? You can choose to leave the design and organisation of the portfolio to the student, or create a template for them to copy and use.
If the way that students organise their assignment is not part of the assessment then you may want to create a template. This will give students a structure for their work and means that the markers will know where to find each component.

If making connections between elements of the portfolio is important, then you may prefer to give students the freedom to organise their portfolio.

To allow students to demonstrate the development of their learning on the module you could require them to include some journal entries.
If you are not sure whether a Mahara portfolio is best for your assignment, contact tel@sussex.ac.uk for advice.
Here are some examples of portfolio submissions being used at Sussex:
Psychology students maintain a weekly reflective journal, considering both the topics of the module and their experiences of study and practice. For their submission, they combine this with two formal pieces of writing, exploring course topics in more depth. For this assignment they use the Journal and Text blocks.
Education students prepare a series of reflections on their experiences on placement in schools, with supporting evidence, to demonstrate values and abilities aligned to the nationally defined Teachers' Standards. For this assignment they use the 'files for download' and text block elements.
Film students submit a completed short film, coupled with a log of the development of their ideas and technical decisions taken in producing it. For this assignment they use embedded video and PDFs.
Global Studies students write weekly blog posts during their module. For their submission, they select and refine four of these. For this assignment they use the Journal tool.
What can Mahara do?

Allows students to develop a portfolio over time.
Encourages reflection and planning.
Allows use of different media in assessment, such as:
Text
Images
Video
Any other file type - to download.
Journal entries
Forum posts
Task lists (called Plans);
Personal information;
CV
External content
Content from Google
HTML code
Benefits for learning

More types of assessment can be submitted electronically, with a range of media included.
Students can work on an assignment over time.
Formative feedback (as comments) can be provided before final submission.
Planning and reflection can be a visible part of an assessment.
Connections and relationships between elements can be made explicit.
Limitations

Data upload limits – each student receives 50MB of portfolio space by default, although this can be amended to suit the needs of a particular assignment, in discussion with TEL.
Marks and feedback for Mahara portfolios needs to be entered in Sussex Direct.
How can I learn to use Mahara?

There are training materials within the Mahara dashboard. When you have logged in to Mahara, click the 'Learn how to use mahara' block to access videos on setting up a portfolio, adding content and editing.

We also run regular Mahara workshops for staff. Check the TEL workshops page for upcoming sessions. If there is not a suitable workshop scheduled please contact tel@sussex.ac.uk.
Mahara portfolio templates

Staff setting up assignments in Mahara often like to use a template to guide students as they build their portfolios. This guide explains how to share a portfolio with students.

Mahara portfolio templates [PDF 593.75KB]

Students can find guidance on copying a template in the the 'Learn how to use mahara' block in their Mahara dashboard.
Mahara and accessibility

For detailed information on Mahara's accessibility please see the Mahara Accessibility statement.

Please report any accessibility issues you experience via our accessibility issue reporting form.